NBC Democratic Debate 2016 Live Stream: How to Watch Live Online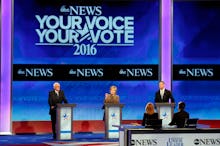 Jim Cole/AP
The 2016 Democratic presidential candidates will face off in Charleston, South Carolina on Sunday at 9 p.m. EST. The debate will air on NBC and will be available for live-stream on the NBC News YouTube channel. Coverage online from South Carolina will start at 8 p.m. EST.
Hosted by the Congressional Black Caucus Institute, will feature the remaining Democratic presidential candidates Hillary Clinton, Vermont Senator Bernie Sanders and former Maryland Governor Martin O' Malley. 
The fourth Democratic debate will be moderated by NBC Nightly News anchor Lester Holt and NBC News' chief foreign affairs correspondent Andrea Mitchell.  
The debate will stream live on pretty much every NBC News digital platform. Viewers can watch via the NBC News apps for iPhone, Android, Amazon, Apple TV, FireTV, and Roku.
While the topics for the debate haven't been released, viewers would like to see the issues of economy, education, foreign policy, healthcare and gun control tackled during the debate. 
The next Republican debate will take place in Des Moines, Iowa on Jan. 28, hosted by Fox News. The democrats will meet in Milwaukee for their next debate hosted by PBS, on Feb. 11.