What Congregants at Charleston's Mother Emanuel Church Have to Say Ahead of the Debate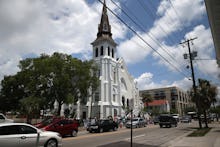 Charleston, South Carolina — At 81, Doris Coaxum-Sanders has lived through multiple chapters of America's tortured history with race, from Jim Crow and the civil rights movement to the election of President Barack Obama and the emergence of Black Lives Matter.
Reflecting on the state of race relations this Martin Luther King Jr. holiday weekend, Coaxum-Sanders said she sees a nation struggling to realize King's vision of racial justice and systemic reform.
"It's sad to see where we are today — it's the least amount of progress we've made in trying to fulfill that legacy," she told Mic, lamenting the criminal justice system's treatment of young black men, persistent economic disparities between blacks and whites, and the ugly stain of racial hatred, something Charleston knows all too well.
Coaxum-Sanders is a lifelong parishioner at Emanuel African Methodist Episcopal Church in Charleston, affectionately known as "Mother Emanuel." It was here that white supremacist gunman Dylann Roof allegedly killed nine African-American congregants after sitting in on a Wednesday evening Bible study session in June.
"These martyrs — and I call them martyrs — were God-sent people. They believed in liberty and justice for everyone, as Dr. King did," Coaxum-Sanders said, speaking of the nine victims, whose deaths prompted the removal of the Confederate battle flag from the State House grounds in Columbia — only a first step, people like Coaxum-Sanders say, in reckoning with the manifold manifestations of racism in America.
Center stage: On Sunday night, Democratic presidential candidates Hillary Clinton, Sen. Bernie Sanders (I-Vt.), and former Maryland Gov. Martin O'Malley will take the stage at Charleston's Gaillard Center, just a five-minute walk from Mother Emanuel, as they meet for their fourth debate of the 2016 election cycle.
Racial justice and gun violence — two topics that converged on that horrific June evening here — have long been at the fore of the Democratic race, with candidates vying to address the concerns highlighted by Black Lives Matter and sparring over gun safety reform, where Sanders' mixed record has provided fodder for Clinton. 
But for those who attended the 9:30 a.m. service at Mother Emanuel on Sunday, such issues resonate with unique poignancy.
As the candidates debate Sunday night, Coaxum-Sanders will be sizing them up to see who plans to actually follow through with their stances on issues like mass incarceration, eradicating poverty and tackling the scourge of gun violence. She's tired of politicians with "words coming from their lips, but no action" to fulfill their promises, she told Mic.
Words haven't been lacking this cycle. Clinton devoted her first policy speech of the campaign to decrying inequities in the criminal justice system and proposing an end to what she called "era of mass incarceration." After facing early criticism that he was too narrowly focused on economic concerns at the expense of issues like racial injustice, Sanders has honed his pitch, unveiling a criminal justice reform plan and embarking on a tour this week of historically black colleges and universities.
Sanders attended the 9:30 service on Sunday, but did not take questions from reporters afterward.
"It shouldn't have taken nine people being murdered to get people to pay attention to what's happening".
Beyond politics: Policy debates are important, Mother Emanuel congregant Myra Haney-Singleton told Mic, but "the politicians are only as good as the persons who will join in with them." What's most needed, she said, is an emphasis on cultivating individuals' moral sensibilities.
Haney-Singleton's husband, Wayne, is the music minister at Mother Emanuel, brought on six years ago by the Rev. Clementa Pinckney, who was a Democratic state senator and pillar of Charleston's black community. Pinckney was one of the nine victims killed in June.
The nation can learn much from how Mother Emanuel responded to the massacre, Haney-Singleton said. One after another, relatives of Roof's victims said at his first court appearance that despite the tremendous pain he'd caused, they forgave him. 
"We have no room for hating, so we have to forgive. I pray God on your soul," the Washington Post quoted one victim's sister as saying.
Haney-Singleton echoed that sentiment.
"The message of forgiveness and love that Dr. King promoted is needed now more than ever," she told Mic, "because love is stronger than hate. That message has got to impact the individual."
Looking forward: Character counts most in beginning the healing, Haney-Singleton believes, but she also sees a role for law and policy.
"Guns are there to protect," she said, "[but] if they get into the hands of people who shouldn't have them, then we need to intervene."
Roof was able to obtain the pistol he allegedly used to kill the Mother Emanuel congregants because of gaps in the federal background check system. As the Washington Post's Glenn Kessler wrote, under federal law buyers are entitled to receive their guns after three business days, even if a criminal background check hasn't been completed. In Roof's case, the FBI didn't obtain information about Roof's past narcotics possession charge before the three-day window closed.
As Kessler reported, then-Rep. Bernie Sanders originally voted for an even shorter, one-day window as an amendment to the 1993 Brady gun control bill, which President Bill Clinton signed into law; congressional negotiators later extended the window to three days. Hillary Clinton has seized on Sanders' vote to link him to the "Charleston loophole" that allowed Roof to obtain his weapon.
In part because of her emphasis on tight gun restrictions, Coaxum-Sanders is "leaning toward" voting for the former secretary of state in South Carolina's Democratic primary on Feb. 27. Coaxum-Sanders, who backed then-Sen. Barack Obama over Clinton in the 2008 primary, also cited Clinton's stances on raising the minimum wage, guaranteeing pay equality for women and reducing student debt.
"And I also want to see a woman president," she added.
Early polling suggests Clinton is the prohibitive favorite in the Palmetto State: Powered by strong support among African-American voters, she leads Sanders by 40 percentage points in the RealClearPolitics average, although there hasn't been a poll of the state's Democrats released since the race tightened elsewhere in recent weeks.
Sherry Nether, a civil rights activist who attended the Mother Emanuel service Sunday, told Mic that though she remains undecided in the 2016 race, she's a big fan of Sanders.
"Bernie Sanders has been consistent," Nether said of the senator, who attended the 1963 March on Washington and agitated for fair housing as a University of Chicago undergraduate. "All along, he's said the same thing."
But Nether won't be able to help Sanders close the gap in South Carolina: She's actually a Detroit-area resident and NAACP organizer who has been coming down to South Carolina for years to marshal support for removing the Confederate battle flag from the State House grounds in Columbia. 
Republican Gov. Nikki Haley's signing of a law removing the flag this summer marked a sweet victory, Nether said, adding that it was an "honor" to be in South Carolina for the MLK holiday weekend. 
Yet while Nether revels in the progress, Mother Emanuel and its environs also serves a reminder of the work that remains to be done, she and other congregants told Mic.
Coaxum-Sanders pointed to the case of Michael Slager, the white police officer from North Charleston charged with the murder of unarmed African-American Walter Scott in April. Earlier this month, Slager was freed on $500,000 bond as he awaits trial.
People like Slager, Coaxum-Sanders said, enjoy "high-priced attorneys" who can win them leniency, while African-Americans encounter harsh treatment from the criminal justice system.
As Black Lives Matter shows signs of durability as a social movement, such issues are receiving substantial attention from political leaders and media outlets. Criminal justice reform is even gaining traction in conservative circles, and it was a Republican governor who agreed to rid South Carolina's State House grounds of the Confederate battle flag. But Nether wishes these developments hadn't come at such a steep price.
"It shouldn't have taken nine people being murdered to get people to pay attention to what's happening," she said.