Here's The Release Dates of Every Major Netflix Original Series in 2016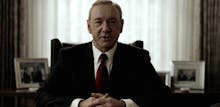 Twitter/Mic
2016 — the year of the binge. Netflix audiences worldwide are bracing themselves for a steady stream of new original releases from the streaming service, including the massively successful Orange is the New Black, Unbreakable Kimmy Schmidt and House of Cards all coming back with forthcoming seasons in the New Year. Netflix announced 11 release dates for both new and returning series and specials Sunday afternoon at the Television Critics Association's press tour, according to Entertainment Weekly. 
House of Cards already announced it's highly anticipated fourth season, returning March 4, during the final 2015 GOP debate in a surprise commercial featuring President Frank Underwood in the Oval Office. Other shows with 2016 release dates on Netflix include Will Arnett's comedy show Flaked, Baz Luhrmann's The Get Down, Ashton Kutcher's The Ranch and Kong: King of the Apes, which will take a futuristic and animated look at the legend of King Kong beginning in mid-April. 
Below are 11 of Netflix's latest release dates announced for several of its originally produced series on Sunday, via Entertainment Weekly:
Orange is the New Black: June 17
Unbreakable Kimmy Schmidt: April 15 
Grace and Frankie: May 6 
The Get Down: Aug. 12
Flaked: March 11
The Ranch: April 1
Marseille: May 5
Stranger Things: July 15, according to iMDB
Kong: King of the Apes: April 15
The kid's shows Lost and Found Music Studios and Word Party will also debut in 2016, becoming available for streaming on April 1 and June 3, respectively.