Who Are the YouTube Stars in the Fourth Democratic Debate?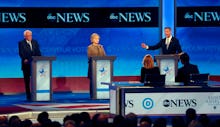 Jim Cole/AP
Here's something to spice up the mostly civil, largely predictable Democratic debate: According to Mashable, four of YouTube's bigger names will take part in Sunday night's Democratic debate, the first of 2016 and the last before the primary elections. Hillary Clinton, Bernie Sanders and Martin O'Malley will take the stage in Charleston, South Carolina at 9 p.m. EST. In addition to NBC's televised broadcast, a live stream of the event will be available on its website on the NBC YouTube channel, where pre-debate coverage begins at 8 p.m. EST. YouTube hasn't revealed many of the details, but it seems to be planning millennial-friendly programming.
"Not only will this be the first debate live streamed on a social media platform this election cycle,"  the company said in a blog post, "but you can expect to see some of your favorite YouTube creators involved."
YouTube celebs scheduled to appear are Connor Franta, Marques Brownlee, Franchesca Ramsey and (presumably) at least one of the scientists behind MinuteEarth. Franta is a lifestyle vlogger and author who recently won Favorite YouTube Star at the 42nd People's Choice Awards. Brownlee covers the tech industry on his YouTube channel and was one of Variety's top 12 #Famechangers in July. Ramsey is an actress and vlogger whose channel (with over 200,000 subscribers) offers social commentary and sketch comedy. MinuteEarth is the brainchild of a cohort of scientists who use animation to explain the workings of the world to over 1 million viewers. 
Clues as to what roles these creators will play have not been forthcoming, but the blog post did say that YouTube would be keeping close tabs on GoogleTrends throughout the evening, using real-time data to "give a perspective on the issues Americans care about most." 
In December, YouTube announced on its blog that the social media platform would be partnering with NBC to present the fourth Democratic debate. YouTube viewers were invited to submit their questions, which moderator and NBC Nightly News anchor Lester Holt would then pitch the candidates in the course of the debate. 
YouTube used a similar Q&A method when three of its personalities — Ingrid Nilsen, Smarter Every Day (Destin Sandlin) and sWooZie (Adande Thorne) — sat down with President Barack Obama on Jan. 15. YouTube looked at Google data and the most popular questions U.S. citizens had for the president over his two terms in office; the trio of YouTube celebs then asked Obama to comment on the nation's most-discussed issues. Perhaps viewers can look forward to a comparable set-up on Sunday's stream.