When Is Slamdance Film Festival 2016? Your Guide to This Years Event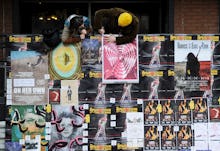 Chris Pizzello/AP
The Slamdance Film Festival, an annual film festival dedicated to bringing attention to emerging independent filmmakers and their films, will be Jan. 22 through 28 at the Treasure Mountain Inn in Park City, Utah. Founded in 1995, the alternative festival is staying true to its roots.
"Our artists don't care how hard it is to succeed," Slamdance president and co-founder Peter Baxter told The Salt Lake Tribune. "They're not afraid to experiment. They're not afraid to fail. They are coming from the outset of the beginning of something here. It's a very creative ground to work on if you are open-minded like that."
The film festival will consist of a film competition, special screenings, workshops, film shorts and question & answer sessions. 
After reviewing more than 5,000 submissions from hopeful film directors, the 2016 Slamdance Film Festival may host several events: Feature Narrative Competition, Feature/Short Documentary Competition, Special Screenings, Animated Shorts, Narrative Shorts, and Anarchy Shorts. 
The opening film for Slamdance on Friday will be the comedic thriller Director's Cut, written by magician Penn Jillette of Penn & Teller and directed by Adam Rifkin, who wrote DreamWorks' Small Soldiers.
Brandon Daley, a director of marketing for a tool company who directs films in his spare time, had his 10-minute comedy Savasana accepted for screening at the film festival in Utah. 
Daley told The Salina Journal that although the Slamdance festival and renowned Sundance Film Festival run at the same time, "it is just as prestigious and competitive."
"We tried to shoot this like a Hollywood movie," Daley continued. "We shot the movie in three days, but they were 12- to 15-hour days. That's a huge time commitment from people who aren't getting paid. They're trusting in your vision."
Tickets can be purchased via the Sundance website.