It's Been an Absolutely Terrible Month for the Richest People on the Planet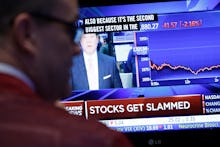 The rich have gotten a little less rich, for once.
Since the beginning of January, the wealthiest 400 people on the planet have lost a combined $305 billion in global equities courtesy of a major downturn in world stock markets, Bloomberg Business reports. In the first 10 days of 2016, the top 100 lost approximately 8% of their collective wealth.
On the Bloomberg Billionaires Index, Microsoft founder Bill Gates was listed as losing $6.8 billion, Spanish fashion magnate Amancio Ortega had lost $5.7 billion, investor Warren Buffett lost $2.6 billion, and Amazon CEO Jeff Bezos lost an astonishing $8.9 billion.
Mexican telecommunications billionaire Carlos Slim was in the hole for $5.8 billion, while Koch Industries owners, and major conservative political contributors, Charles and David Koch lost a combined $2.4 billion.
As the Telegraph notes, losses among the globe's ultra-wealthy are primarily due to the falling Dow Jones, as well as faltering stock markets in Europe and China. Value loss in these markets are linked to the plummeting price of oil around the globe, which has also caused major routs in Middle Eastern stock exchanges.
However, 2016's short-term losses among the richest of the rich follow years of exploding wealth for global elites.
A report by the Organization for Economic Cooperation and Development in May found that among the 34 wealthy countries that comprise its membership, income inequality was "at its highest since records began," according to Al-Jazeera America.
In 2015, charity Oxfam projected that the richest 1% of people worldwide will own more wealth than the other 99% of the world combined by the year 2016.
While the richest countries in the world are experiencing skyrocketing rates of inequality, the New York Times' Tyler Cowen argued in 2014 that global levels of inequality have actually fallen as the poorest nations across the world experience rapid economic development.