2016 Presidential Poll Results: Latest National and Primary Polls for Week of January 11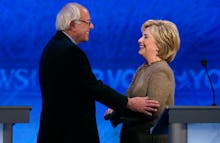 Jim Cole/AP
With the Iowa caucus just around the corner, on Feb. 1, and only two more presidential debates on the calendar before the nation's first votes are cast, the race to win the nomination is heating up in both parties. Candidates are bringing out the big guns: trumped-up TV ads, unapologetic social media bids for the hip young contingent's support, pop-culture laden talk show appearances and pointed jabs at other contenders' families and origins. How are those strategies working out for the presidential contenders? Here's what the most recent polls have to say about the possible direction the 2016 election could take.
Who's still running? The Democratic candidates, who will debate for the fourth time Sunday night, are Hillary Clinton, Bernie Sanders and Martin O'Malley. 
The Republican ticket remains ever crowded, although the number of candidates has thinned somewhat in recent weeks. The 12 GOP presidential hopefuls include former businessman and reality TV star Donald Trump, Texas Sen. Ted Cruz, Florida Sen. Marco Rubio, retired neurosurgeon Ben Carson, former Florida Gov. Jeb Bush, New Jersey Gov. Chris Christie, ex-Hewlett Packard executive Carly Fiorina, Ohio Gov. John Kasich, Kentucky Sen. Rand Paul, former Arkansas Gov. Mike Huckabee, former Pennsylvania Sen. Rick Santorum and former Virginia Gov./under-the-radar candidate Jim Gilmore.
Democratic polls: According to Real Clear Politics, Clinton has an average 12.7 point lead on Bernie Sanders nationwide: 51% versus 38.3% for Sanders, and 2.3% for O'Malley between Jan. 4 and Jan. 13. RCP looked at four polls, the two most recent of which came up with somewhat contradictory data. 
Going into the Jan. 17 Democratic debate, a poll by NBC News and the Wall Street Journal found that Clinton has a 25 point lead on Sanders, with Clinton polling 59% support amongst primary voters, Sanders polling 34% and O'Malley polling 2%. Of those surveyed by NBC/WSJ, 79% said they could envision voting for Clinton (versus 18% who couldn't), 66% said they could envision voting for Sanders (versus 25% who couldn't) and 22% said they could imagine voting for O'Malley. 51% could not.
A poll conducted by the New York Times and CBS News, however, suggested that Sanders is gaining on Clinton among younger voters: Of the 389 Democrats polled, those under 45 tended to prefer the Vermont senator to the former Secretary of State by a 2-to-1 margin. Sanders also attracted 55% of liberal voters' support, against 40% for Clinton. She polled better with older voters and with moderate Democrats, 51% of whom opted for her against 33% who went with Sanders. Clinton is leading in the women's vote, but Sanders has slightly more support amongst men: 45% of those surveyed would vote for the self-described democratic socialist, versus 40% who would vote for Clinton.
Even so, seven in 10 Democrats surveyed in the CBS/NYT poll thought Clinton would win the party's nomination, regardless of their candidate preference. Clinton polled 48% support against Sanders's 41%, perhaps because the party sees her as more presidential: roughly 80% of respondents thought Clinton had the right kind of temperament to serve as president, versus about two thirds for Sanders. Four in 10 Democrats surveyed were "very confident" in her ability to command the country's armed forces, while only two in 10 said the same of Sanders.
Republican polls: Real Clear Politics places Trump ahead of the GOP pack for the period between Jan. 4 and Jan. 13. Nationwide, Trump enjoys a 15.2 percentage-point lead; he has an average of 34.5% of the party's support, while Cruz has 19.3% and Rubio has 11.8%. Each of the other nine candidates has polled less than 10%, according to RCP.
Of these top three candidates — Trump, Cruz and Rubio — the NBC/WSJ poll of Republican voters found that of the 400 people interviewed, 71% could see themselves casting a ballot for Cruz in the general election, versus 25% who couldn't. 67% could envision voting for Rubio, versus 28% who couldn't. 65% could imagine voting for Trump, while 34% could not. So, while Trump still ranked highest in terms of primary voter percentage — 33% of those surveyed named Trump as their choice for the GOP's candidate, while 20% chose Cruz and 11% went with Rubio — Republican voters as a whole may be less likely to vote for him than for his two most formidable opponents. 
The same CBS/NYT poll found that 36% of 442 national Republican primary voters support Trump, compared to 19% who back Cruz and 12% who would vote Rubio. An approximate third of those polled, however, reported that they'd definitively chosen their candidates; 52% of Trump supporters are committed to voting for the former businessman, who has overtaken Cruz for the evangelical vote (42% to 25%). The area where he's losing? Temperament: about half of those polled responded that Trump has a presidential personality, versus two thirds who said the same of Cruz and Rubio.
Democratic polling in Iowa: And yet, with the Iowa caucus mere weeks away, all this is likely primed to change. RCP puts Clinton an average 4 points ahead of her two opponents, polling 46.8% against Sanders's 42.8% and O'Malley's 5.2%. For the Republicans, things are looking a little different in Iowa than they are nationwide. Trump is up, but only just: according to RCP, he has an average 1.1 point lead on his fellow GOP contenders. With 26.7% support, Cruz is gaining on Trump's 27.8%. Rubio, meanwhile, is polling 11.7%.
The most recent data from the "gold standard" of political polls, the Bloomberg/Des Moines Register poll, indicated on Jan. 14 that Sanders is gaining on Clinton amongst potential caucus attendees: 42% of the 503 Democrats polled named Clinton as their first choice, while 40% went with Sanders. What is may come down to is whether the party places a greater emphasis on issues or leadership during the primary: 50% of those who think issues are the focus of the 2016 election support sanders, versus 37% who support Clinton, the poll found. Of voters who believed the election to be about leadership, however, 50% were with Clinton and 29% were with Sanders. All told, the survey says, 57% of respondents thought the race was about issues.
Repubican polling in Iowa: As for the Republican candidates, the Bloomberg/DMR poll found that, of the 500 probable participants in Iowa's Republican caucus, Cruz is the more popular presidential candidate — but only just. Cruz drew 25% support from those surveyed, while Trump polled 22%, Rubio pulled in 12% support and Carson followed close behind, with 11% support. As a second choice, Cruz leads Trump 48% to 33%: Cruz is the second choice of some 47% of Trump voters, the survey says, but not the other way around; 25% of Cruz's base would go with Trump as a second choice. Amongst Rubio supporters, 50% say they would go with an "establishment candidate," versus 27% who would opt for an "anti-establishment one." 
What does that mean? That Trump likely won't see an influx of support once his lower-polling opponents are out of the race. Among Trump's most substantial support margins are "those who say disrupting government is their top or major consideration," the survey says, while Cruz is more popular with "those who consider themselves very conservative" and the over-65 crowd. 42% of Republicans polled said that government disruption would be "a major consideration" in deciding who gets their votes.
Cruz is leading Trump in favorability: 76% of survey respondents thought positively of the candidate, while Trump's ratings have slid three points since the last Iowa poll in December. His favorability rating sits at 54%. 
Of likely caucus attendees polled, 52% reported that leadership was more important than were issues (with 40% support) in the 2016 election, while 72% said that a candidate's values were most important, versus 55% who said that the candidate's ability to win in a general election was top priority. 
Democratic polling in New Hampshire: The New Hampshire primary takes place on Feb. 9, shortly after Iowa's caucus. As such, it's contested campaign ground for both parties. Within Democratic voters, RCP places Sanders in front of Clinton by an average 6.2 lead, with 48.8% support to Clinton's 42.6% and O'Malley's 3%. 
According to the most recent Monmouth University poll, Sanders leads Clinton 53% to 39% amongst the 413 likely voters surveyed, 52% of whom reported that their minds were made up. 49% of decided voters stood with Clinton, versus 55% who backed Sanders. Clinton registered 73% approval, while Sanders got 90%. 
"New Hampshire's modified primary system and same-day registration will bring out a large number of voters who are not partisan diehards, but registered Democrats will almost certainly make up the majority of February's electorate," the survey reported. Sanders is now leading Clinton 50% to 42% within this demographic, as well as within independents, with whom he leads Clinton 58% to 34%. According to Monmouth, Sanders has also swung the New Hampshire women's vote his way: 50% of those surveyed would vote for him over the former first lady. 
Republican polling in New Hampshire: Trump is leading the race in the Granite State, according to RCP: he has an average 17.6 point lead on the competition, with 30.4% support against Rubio's 12.8%, Kasich's 11.2% and Cruz's 11%. In Monmouth University's most recent Jan. 10 study, 32% of 414 likely Republican primary voters polled reported being completely decided — of those, 46% would go with Trump, who attracted 32% support from respondents. 14% of those polled would pick Cruz as a first choice and 20% would back him as a second choice, versus 8% who would opt for Trump. Cruz registered 57% approval, whereas Trump got 52%, behind Rubio's 56%. 
Of the issues closest to the hearts of Monmouth responders, national security and terrorism came in first for 35% of voters, followed by the economy and jobs for 20%, followed by taxes and government spending for 13%. 
In a general election: According to match-ups by RCP, Clinton would beat Trump 45.3% to 42.8% in a general election, while Sanders would best him by 5.3 percentage points (46.8% to 41.5%). Running against Cruz, Clinton could be less lucky: Cruz leads her by an average of 1.8 points, with 46.3% of national support to her 44.5%. Sanders, on the other hand, could win in a contest with Cruz: his average advantage is 3.3 percentage points on the Texan senator, with 45% support to Cruz's 41.7%. (The most recent poll for this pairing, however, comes from Dec. 20.) 
Who will win? It's still too early to know for sure, but things only promise to get more interesting the closer we get to primary season.