Latest Hillary Clinton and Bernie Sanders Buzz Ahead of NBC Democratic Debate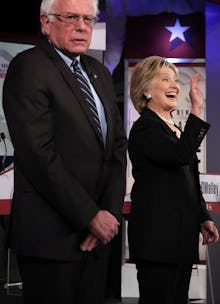 Alex Wong/Getty Images
The Democratic race to the White House is appearing to have much less camaraderie ahead of Sunday night's debate, starring former Secretary of State Hillary Clinton, Vermont Sen. Bernie Sanders and former Maryland Gov. Martin O'Malley. After the Sanders camp released sponsored messages denouncing Clinton's run for the presidency after vowing to run only a positive campaign, the two are neck and neck in numbers and are coming out swinging in anticipation of their weekend performance.
The Democratic NBC/YouTube debate kicks off Sunday night at 9 p.m. EST and will be available across the NBC network, as well as live streaming on YouTube.
"We were very surprised today to see that Bernie Sanders had launched a negative television advertisement against Hillary," Clinton's campaign manager Robbie Mook told reporters in a press conference on Thursday, Observer reported. "We were particularly surprised because he had personally pledged and his campaign had pledged to never run a negative advertisement."
What the polls are saying: Though the former Secretary of State has long been the 2016 democratic presidential frontrunner to take home the nomination from the party for the White House, recent polls are showing a sharp rise in Sanders' campaign. CNN reported on a Monmouth University poll Sunday showing the Vermont senator leading in New Hampshire polls by as much as 14%. 
However, Clinton still helms the lead in national polls, with 59% of support compared to Sanders' 34%. O'Malley trails behind with just 2%, according to CNN. 
The Sanders campaign is also firing back after Chelsea Clinton, Hillary Clinton's daughter, made her debut appearance on the campaign trail, striking Sanders' proposals for a single-payer universal healthcare system to contradict President Obama's current Affordable Care Act, otherwise known as Obamacare. "I was a little disappointed that what Chelsea said was simply not accurate," Sanders told CNN's Jake Tapper. The Vermont senator said Clinton's campaign was suggesting Sanders' proposed system and "ideas will leave millions of people without health insurance."
"Sen. Sanders wants to dismantle Obamacare, dismantle the CHIP program, dismantle Medicare, and dismantle private insurance," Chelsea Clinton said in a New Hampshire press conference on Jan. 12, Politifact reported. "I don't want to empower Republican governors to take away Medicaid, to take away health insurance for low-income and middle-income working Americans. And I think very much that's what Sen. Sanders' plan would do."
Sunday night's debate is expected to cover a wide array of topics, from gun control to health care, as well as how the three candidates would fare against Republican frontrunners Sen. Ted Cruz and billionaire Donald Trump. 
Still to be determined is whether Clinton and Sanders will spar it out or leave the attacks for the advertisements.