'Jessica Jones' Is Coming Back to Netflix for Season 2. Here Are 5 Reasons to Be Excited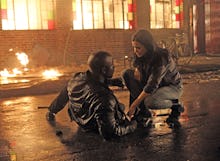 Steve Sands/Getty Images
At the Television Critics Association press tour in Pasadena, California, Netflix gave fans at treat when they announced on Sunday morning the renewal of Marvel's Jessica Jones series for a second season. Jessica Jones, a series about a former superhero turned private investigator, will be the second Marvel series in a row to be renewed for another season.
Few details about the renewal are known at this time. "We learned about the pickup when you guys learned about it, so we're at that stage of just going, 'Yay!,'" said Jeph Loeb, Marvel TV's executive vice president, according to Variety. 
Here are five reasons why every Jessica Jones fan should be excited.
We may see collaborations from other Marvel comic book characters
Although Jessica Jones showrunner Melissa Rosenberg said mum on many of the details, there could be potential for collaborative efforts with the writers from other Marvel-Netflix series, such as Daredevil, Iron Fist or Luke Cage. The second season of Daredevil will premier on March 18, while Luke Cage is set to debut in later in 2016. 
"I will always use as much as I possibly can from the comic book," Rosenberg said during press event, according to Variety. "The MCU is very different in terms of its mythology. In the books, everyone knows superheroes are walking around, there's a lot of things building toward Secret Wars. We're probably not going to be able to do a totally parallel storylines. But I take every little piece I can because it's so good." 
Marvel comic book history is loaded with crossovers events. The likelihood that Jessica Jones can appear in crossover episodes may be higher than we think.
Jessica Jones was well-received by many
The announcement of Jessica Jones returning for a second season was met with positive reception from many online. 
But the TV series was well-regarded by many magazine outlets as well. Forbes said that Jessica Jones was "in no uncertain terms the best thing Marvel Television has ever produced." IGN named Jessica Jones as the best Netflix original programming series released to date in December. 
We'll learn more about Jessica Jones' background
Rosenberg will look to shed more light on Jessica Jones' background and character in season 2. 
"I think I just want to continue with her character. She's a very damaged character and her damage goes beyond Kilgrave,"  the screenwriter told reporters after the press event, according to Variety. "There's a lot to mine from in her backstory and in her present-day situation. I think we'll find something."
Hellcat may appear in season two
Trish Walker, played by Rachael Taylor, is the good friend of Jessica Jones (played by Krysten Ritter) in the series. But the character Trish, is a nod to 1940s Marvel character Patsy Walker, who later becomes the feline super-heroine Hellcat in 1976. 
"It's already a privilege to play a history that has so much lineage within the Marvel universe and to take it that one step further, is something that, yeah... I'd love to get my teeth stuck into whatever happens to the character," Taylor said, when asked by reporters about the possibility of becoming the super-heroine.
According to IGN, the TV series hinted at Patsy Walker's future, as she began to learn and utilize some fighting abilities in season 1.
A stance on issues of feminism, addiction and trauma
Jessica Jones has been widely regarded as a fresh perspective on issues of feminism, rape addiction, and trauma. 
"We never walked into the writing room going 'we are now going to take one rape, feminism, abuse," Rosenberg told reporters Sunday. "But by being true to the character, it was true to the issues."
With a new season in the works, Jessica Jones will seek to continue tackling these overarching themes.