If You're Making 2016 Oscar Predictions, Here's Where to Bet Big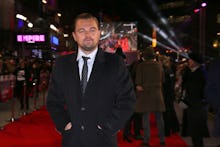 Joel Ryan/AP
It's that time of year again, when the annual Academy of Motion Picture Arts and Sciences snubs people of color — as well as Leonardo DiCaprio — for their roles in international box office smashes, instead handing them to America's current sweethearts in the industry like Jennifer Lawrence, rather than celebrating the work of other talented actors and actresses like Mya Taylor, Idris Elba and Tessa Thompson, who's work has gone entirely unnoticed by the Academy. 
With each year, it seems as though the Oscars get easier to predict, and this year is no different. Variety reported on its annual list of predictions DiCaprio's role in The Revenant won't be good enough to take home the award for Best Picture, despite his being handed the annual complimentary nomination, with Spotlight instead the most likely to receive the most prestigious award of the night.
However, Variety does predict newcomer Brie Larson will take home the Best Actress role for her role in Room, taking the award from the trophy-reaping Lawrence, who's work in Joy has already solicited her a Golden Globe. 
Perhaps the DiCaprio curse even affects his directors, as The Revenant's Alejandro G. Iñárritu is nominated for Best Director, though Variety predicts Mad Max: Fury Road's George Miller is slated to take home the golden statue. 
DiCaprio is considered Variety's most likely to take home Best Actor, though the thought of the 41-year-old ever bringing home an Oscar seems to be pure wishful thinking to most at this point. One could easily see the Academy handing the award to any of the competitor's fellow nominees, including Matt Damon, who starred in The Martian, or Steve Jobs' Michael Fassbender.
It appears to be a no-brainer that Sylvester Stallone will win Best Supporting Actor for his role in Creed, while the avant-garde narration of The Revenant will hopefully be awarded Best Cinematography at least. However, Mad Max: Fury Road appears to be a worthy competitor, though Variety predicts DiCaprio's film will win the award.
Check out Variety's full list of 2016 Oscar predictions here.