3 Americans Kidnapped in Baghdad, Reports Al-Arabiya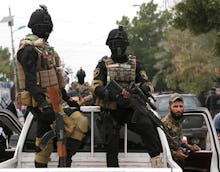 Iraqi militant groups reportedly kidnapped three American citizens in Baghdad this weekend, according to Saudi Arabia-owned regional news agency Al-Arabiya.
"We are aware of reports that American citizens are missing in Iraq," State Department official John Kirby told the Daily Mail. "The safety and security of American citizens overseas is our highest priority.? We are working with the full cooperation of the Iraqi authorities to locate and recover the individuals."
It remains unclear who the Americans were or why they were in Dora, the Baghdad neighborhood where the Daily Mail reported the three individuals were when they were abducted. Dora has been the site of much violence during and after the U.S.-led invasion of Iraq in 2003, and the ensuing eight-year occupation of the country.
Prior to the reported abductions, the U.S. was having a good weekend with respect to imprisoned Americans in the Middle East — on Saturday, Iran released four U.S. citizens being held as prisoners as part of a major deal to end Iran's nuclear program.
The safety of U.S. contractors and employees overseas has become a political point over the past few years after congressional Republicans harshly criticized President Barack Obama and then-Secretary of State Hillary Clinton of mismanaging the response to a 2012 attack on a U.S. consulate in Benghazi, Libya, though the conspiracy they hoped to reveal never actually materialized.
This is a breaking news story and will be updated as more information becomes available.