Cher Sends 180,000 Bottles of Water to Flint, Michigan, Residents With Contaminated Water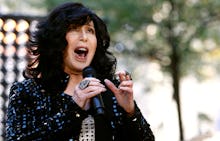 Pop legend Cher has launched a major initiative to help residents of Flint, Michigan, in the midst of a declared federal state of emergency over the city's contaminated water supply, providing 180,000 bottles of water to the beleaguered community pro bono.
Flint's municipal water supply became seriously dangerous to human health after the emergency manager, which is not an elected position, decided to switch the source of the city's water to the Flint River from Detroit as part of cost-cutting measures in April 2014. As the river's corrosive water leached lead and other contaminants from aging pipes, officials looked the other way and may have knowingly misled the public over the water's safety. 
The result was tap water that looked like this and was just as dangerous to drink. Thousands of children may have been exposed to elevated levels of lead.
According to People, Cher's initiative was launched with Icelandic Glacial, a major bottled-water company, and the badly needed water will arrive by Wednesday.
"This is a tragedy of staggering proportion and shocking that it's happening in the middle of our country," Cher said in a press release issued to the magazine. "I cannot wait for the water to get there to help these people who have been poisoned."
In addition to declaring a federal state of emergency, President Barack Obama committed $5 million in immediate funding to counter the disaster's effects. According to the Detroit Free Press, Snyder's administration believes the total cost of repairing water lines and providing clean water to city residents could approach $100 million.
Despite the contamination, residents of the city are still being charged with "some of the highest water bills in the state of Michigan" by the municipal water authority, according to the Detroit Free Press.
Correction: Jan. 18, 2016