These 10 Films From Sundance 2016 Will Have the Whole Festival Talking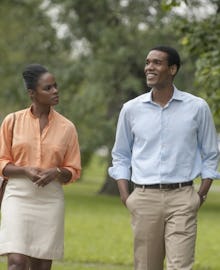 IMDb
The 32nd annual Sundance Film Festival kicks off Thursday in Park City, Utah. Until Jan. 31, attendees will see documentaries, indie films, shorts, art house movies and installations from international filmmaking talents. The festival culminates with an awards ceremony, and while many Sundance winners have gone on to receive Oscar nods, even those that don't win can grab widespread attention once people start talking about them at the festival. Here are our predictions for the top 10 films that will be getting major buzz at Sundance 2016. 
Southside With You
A presidential love story for the ages, in Southside With You, first-time director and screenwriter Richard Tanne transports viewers to the summer of 1989 in Chicago, as Barack, a Harvard Law associate, finesses a date with Michelle, a young lawyer. Or, he thinks it's a date; Michelle doesn't see it as such — not at first. But as the afternoon turns into evening, she finds herself charmed by the "cigarette-smoking smooth talker" and his tremendous ambition. 
This is the story of President Barack Obama and the future first lady, Michelle Robinson. Actors Tika Sumpter and Parker Sawyers "embody the essence of two people matched in power, idealism and intellect," and show viewers "how serendipitous and consequential that day in 1989 was — not just for Michelle and Barack, but for America." Below, Tanne explains how the movie came to be:
Other People
A better Garden State, maybe? In Other People, writer and director Chris Kelly (of Saturday Night Live and Broad City fame) shows off "his ability to honestly capture the full range of emotions that happen within a family on a daily basis." The dramedy tells the story of a comedy writer, David, who's working to make a name for himself in New York City while reeling from a recent breakup with his boyfriend; he returns to his childhood home in Sacramento, California, to care for his ailing mother, and finds himself an outsider among his family members as he tries to convince the world that everything with him is fine. 
Other People is a story of everyday struggles and tensions, which may sound unremarkable on its face. Kelly, however, highlights the "exquisite details of mundane moments" that "imbue the film with rare insight and humor." And to that end, it doesn't hurt to have SNL Molly Shannon star as David's dying mother. Other People premieres on Sundance's opening night.
The Lovers and the Despot
A "film noir of the most twisted order" from the U.K., The Lovers and the Despot is "a chilling yet fascinating glimpse into the psychology of the North Korean dictatorship and what happens when art, love, and megalomania collide." 
Filmmakers Robert Cannan and Ross Adam follow the relationship arc of a director and actress — "the Brangelina of '70s South Korea" — whose love affair is felled by their growing fame. The two split, but the plot only thickens from there: Kim Jong Il captures the actress and holds her hostage in his summer house; the director launches an exhaustive search for his ex that ultimately lands him in a North Korean concentration camp. The pair comes back together five years later, when the dictator makes them his own personal filmmakers. Romance, drama and daring escape efforts ensue.
Tickled
"Competitive endurance tickling" is a niche sport that exists, and reporter David Farrier dives into it in Tickled. This Dylan Reeve-directed documentary starts with a bizarre online video: Farrier comes across footage of men being bound and mercilessly tickled, and — naturally — Farrier has a few questions for the video's maker. When he looks for answers, though, he's confronted by a cyberbully who threatens the journalist and sets him on the tickling trail. 
The film follows Farrier to Los Angeles, where the journalist finds "hidden tickling facilities" that lead him to a "vast empire," helmed by anonymous figures "known for harassing and harming the lives of those who protest their involvement" in endurance tickling. 
Author: The JT LeRoy Story
Director Jeff Feuerzeig examines the curious case of JT LeRoy, the onetime It kid of the literary scene. Before New York magazine blew his cover in 2005, the teenage author of 2000's Sarah had been esteemed as the quintessential voice of his time. 
How did such a young man get to be so prescient? He was an invention of a much older, much more experienced writer: 40-year-old Laura Albert, "a Cyrano de Bergerac on steroids" who worked as a sex hotline operator in San Francisco, far from the jet-setting world she inhabited as LeRoy. Author: The JT LeRoy Story shows how a literary character can come to life — and overtake that of its creator.
Kate Plays Christine
Kate Plays Christine is one of two films at Sundance that focuses on the Sarasota, Florida, journalist Christine Chubbuck who shot herself on-air in 1974. Chubbuck's was the first televised suicide ever, and while the incident attracted a huge amount of interest at the time, the circumstances behind it remain hazy. Now, as actress Kate Lyn Sheil takes up the journalist's role in a soapy telling of the story, director Robert Greene films her efforts to understand Chubbuck as a character and turns up new insights into her TV death.
Watch an interview with Greene below:
Kiki
From Swedish visual artist and director Sara Jordenö and Twiggy Pucci Garçon, this documentary infiltrates New York's Kiki ballroom scene, where LGBTQ kids of color use voguing to "demand visibility and real political power." Their motto? "Not about us without us." 
Kiki takes the audience inside the underground world of competitive voguing, where Houses (voguing groups) foster family-like support systems and success "demands leadership, painstaking practice, and performances on point." This is an inspiring look at a little-known subculture — a "frank and frenetic film" and a Paris Is Burning for 2016.
Michael Jackson's Journey From Motown to Off the Wall 
Academy Award-winning director Spike Lee looks at the genesis of Michael Jackson, from his Gary, Indiana, home to the beginnings of his reign as the King of Pop. Michael Jackson's Journey From Motown to Off the Wall brings Jackson's voice together with those of his family members, pulling interviews and archival material into a detailed look at how the icon got his start, how he and the rest of the Jackson Five made the move from living room sing-alongs to the Motown record company and how he struck out on his solo career from there. 
The official trailer is below:
Goat
Directed by Andrew Neel (Darkon, King Kelly) and written by David Gordon Green (whose name readers might recognize from Pineapple Express, among many other credits), Goat tells the true story of a teen — Brad Land, played by Ben Schnetzer — who, in the wake of a "terrifying assault," follows his older brother (Brett, played by Nick Jonas) to college. The younger boy pledges his brother's fraternity, where hard partying and hazing go off the rails: "The result exposes the brutal and violent aspects of male culture that lurk beneath the surface of our seemingly controlled society." Jonas, a Disney star no more.
Holy Hell
In Holy Hell, fledgling filmmaker Will Allen had just graduated from Southern Methodist University when he joined "a secretive spiritualist community" based in Los Angeles and headed by a "charismatic guru." Twenty years later, he finally broke out of the cult, bringing with him two decades' worth of video footage meticulously documenting how "total devotion turned to paranoia ... as unexpected truths were revealed about the enlightened leader they built every fiber of their lives around." Like HBO's Going Clear, if it had been made by one of its scientologist subjects.