Bernie Sanders Releases Details of Health Care Plan Hours Before Democratic Debate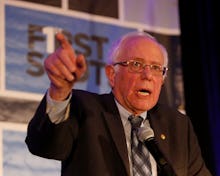 Charleston, South Carolina — Two hours before Democrats will meet for their fourth presidential debate here, Sen. Bernie Sanders (I-Vt.) released much-awaited details of his proposal for a single-payer health insurance system, proposing a mixture of tax hikes on the wealthy and payroll taxes on all American employers.
"Universal health care is an idea that has been supported in the United States by Democratic presidents going back to Franklin Roosevelt and Harry Truman," Sanders said in a statement released by his campaign. "It is time for our country to join every other major industrialized nation on earth and guarantee health care to all citizens as a right, not a privilege."
The campaign said Sanders' plan for a "Medicare-for-all" system would "build on the success of the Affordable Care Act, which Sanders helped craft."
The details: To fund the plan, Sanders would impose a 2.2% health care premium, a 6.2% payroll tax on employers, estate taxes on the most affluent households and new income taxes on the rich. Those earning between $250,000 and $500,000 annually would be taxed at a federal rate of 37%, while households earning more than $10 million would pay a 52% rate.
Citing an analysis from from University of Massachusetts-Amherst economist Gerald Friedman, the Sanders campaign said a family earning $50,000 would save, on average, $5,807 a year in health costs, thanks to savings that would otherwise have been spent on private insurance premiums and deductibles.
As Sanders spars with Democratic frontrunner Hillary Clinton Sunday night, expect him to point to those projected savings to push back against Clinton's argument that Sanders' plan amounts to an unfair tax hike on the middle class.
The Clinton campaign has hammered Sanders in recent days over his delays in releasing details of how he would fund his single-payer plan. While Sanders campaign manager Jeff Weaver had suggested last week that a plan might not arrive before the Feb. 1 Iowa caucuses, the candidate himself later vowed to roll out his plan before then.
While Sanders' release of the plan on Sunday evening ensures he'll meet that deadline, it'll provide fodder for Clinton, whose campaign has pointedly stated that she believes "middle-class families deserve a raise, not a tax increase." 
It's not surprising that Sanders is willing to hike payroll taxes to fund his plan: He's proposed legislation in Congress to do just that, and in an interview with Time earlier Sunday, he hinted that his latest proposal would include payroll tax increases.
Citing Sanders' promises not to raise taxes on the middle class, the Clinton campaign depicted that as a flip-flop, and was quick to seize on the payroll tax increases after Sanders released his plan Sunday evening:
Prepare for sparks to fly when the candidates take the stage at 9 p.m. Eastern.