Here's Everything You Missed From the Fourth Democratic Presidential Debate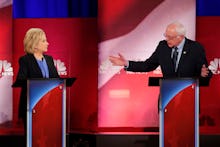 The Democratic presidential candidates met for their fourth debate of the 2016 cycle in Charleston, South Carolina on Sunday night, amid a tightening race between leading candidates Hillary Clinton and Bernie Sanders and recent spats over issues like health care reform and gun safety.
Joined by former Maryland Gov. Martin O'Malley, Clinton and Sanders arrived in Charleston with two very different goals. For Clinton, seeking to unite the Democratic Party behind her suddenly vulnerable candidacy, the objective was to present herself as the candidate who could assemble a winning general election coalition and stave off a Republican triumph in November. Surging in Iowa and New Hampshire, Sanders had to convince Democrats that he's no mere gadfly, but a serious candidate equipped to lead the nation's executive branch.
The debate, hosted by NBC News and YouTube, was held at 9 p.m. on a Sunday during a three-day weekend, so it's unlikely to break any TV ratings records. Fortunately, Mic was dutifully watching, and we rounded up the most significant moments below:
1. The candidates laid out their agenda for their first 100 days in office.
The first question of the night was an important one: what would the candidates' top three policy priorities be in their first 100 days in office?
Sanders' top priorities were universal health care, a higher minimum wage and jobs.
"We should have health care for every man, woman and child as a right, that we should raise the minimum wage to at least $15 an hour, that we have got to create millions of decent paying jobs by rebuilding our crumbling infrastructure," Sanders said.
Clinton's shirked the request to stick with three items, but her response still reflected her key priorities. Like Sanders, she spoke of jobs and raising the minimum wage as a priority (which she favors boosting, although not to $15 on a federal level, as Sanders does). But she also said that equal pay for women would be a priority, and described plans to improve Obamacare by "decreasing the out of pocket cost by putting a cap on prescription drug costs." Finally she offered up an Obama-esque aspiration for improving Washington's political culture.
"I would be working in every way that I knew to bring our country together — we do have too much division, too much mean-spiritedness," Clinton said. "There's a lot we have to do on immigration reform, on voting rights, on campaign finance reform, but we need to do it together. That's how we'll have the kind of country for the 21st century that we know will guarantee our children and grandchildren the kind of future they deserve."
Finally, O'Malley offered up his 100-day agenda, and like Clinton he declined to limit himself to three priorities. He promised to "make wages go up for all Americans;" comprehensive immigration reform; raising the federal minimum wage to $15 an hour, an ambitious energy plan to cope with climate change; and an unprecedented investment in American cities.
"We need a new agenda for American cities that'll invest in the talents and skills in our people, invest in transportation, infrastructure, and transit options," O'Malley said. "Make our cities the leading edge in this move to a redesigned, built, clean green energy future that'll employ our people." — Zeeshan Aleem
2. Clinton went after Sanders on his gun record.
Sanders and Clinton clashed over gun control early in the debate after Sanders found himself on the defensive thanks to a question from the moderators about his eleventh-hour effort to distance himself from regulations that would give gun manufacturers immunity.
"Well, I think Secretary Clinton knows what she says is disingenuous," Sanders said.
"I have a D-minus voting record from the NRA. ... In 1988, there were three candidates running for Congress in the state of Vermont. I stood up to the gun lobby, and came out and maintained the position that in this country, we should not be selling military-style assault weapons," said the senator from Vermont, where residents are strongly supportive of gun rights.
"I have supported, from day one, an instant background check to make certain that people who should not have guns do not have guns, and that includes people with criminal backgrounds, people who are mentally unstable. I support what President Obama is doing in terms of trying to close the gun show loopholes, and I think it should be a federal crime if people act," Sanders said.
Clinton pounced.
"I have made it clear, based on Sen. Sanders' own record that he has voted with the NRA, with the gun lobby, numerous times — voted against the Brady Bill five times," she said. "He voted for what we call 'the Charleston Loophole.' He voted for immunity from gun makers and sellers, which the NRA said was the most important piece of gun legislation in 20 years." — Celeste Katz
3. Clinton slammed "systemic racism in our criminal justice system."
In a forceful answer to moderator Lester Holt's question about whether African-American lives are being devalued in modern America, she said that "sadly," they were.
"And it has been heartbreaking and incredibly outraging to see the constant stories of young men, like [South Carolinian and unarmed African-American] Walter Scott, as you said, who have been killed by police officers," Clinton continued. "There needs to be a concerted effort to address the systemic racism in our criminal justice system."
That agenda, Clinton said, entailed combatting racial profiling, bringing an end to mass incarceration and ceasing disparate treatment of minority offenders. — Luke Brinker
4. Sanders said there should be an automatic federal investigation when someone dies in police custody.
Sanders fielded a question about the continuing divide over race issues in law enforcement that has come to a boil since the deaths of young black men like Michael Brown and Tamir Rice.
"This is a responsibility for the U.S. Justice Department to get involved," Sanders responded to the question, which noted that in some of the most controversial cases, the police officers involved were cleared of any misconduct.
"Whenever anybody in this country is killed while in police custody, they should automatically trigger a U.S. Attorney General's investigation," Sanders said.
The country has been roiled by a string of deaths of black Americans while in police hands. Among them: Sandra Bland, who was found hanged in her jail cell after a Texas traffic stop; Walter Scott, who died after police shot him in the back in North Charleston, South Carolina; and Eric Garner, the Staten Island man who died after police put him in a chokehold while arresting him for selling loose cigarettes. — Celeste Katz
5. Clinton said that Sanders' health care plan would damage the Affordable Care Act.
Turning to health care, Clinton charged that Sanders' newly released health care plan would imperil the progress made under the Affordable Care Act.
"I certainly respect Sen. Sanders' intention" in proposing a Medicare-for-all system, Clinton said. "But when you're talking about health care, the details really matter, and therefore, we have been raising questions about the nine bills that he introduced over 20 years as to how they would work and what would be the impact on people's health care. He didn't like that. His campaign didn't like it either. And tonight, he's come out with a new health care plan."
Urging Democrats to focus on defending the Affordable Care Act, Clinton warned that Sanders' call for drastic reform of the health care system would reopen a "contentious debate" the party could ill-afford at a time when Republicans remain fiercely determined to scrap the health reform law.
"I want us to defend and build on the Affordable Care Act and improve it," Clinton said, linking herself to a legacy-defining achievement of a president who remains overwhelmingly popular with the Democratic electorate. — Luke Brinker
6. Sanders explained why he thinks a democratic socialist can win the presidential election.
When prompted to explain how someone who unapologetically identifies as a "democratic socialist" could win the general election, Sanders argued that he would provide a breath of fresh air to an ailing Democratic Party. He said the grassroots movement underlying his campaign would appeal to an electorate commonly overlooked in an era dominated by big money.
"The Democratic Party needs major reform," Sanders said. "Instead of being dependent on super PACs, what we need is to be dependent on small, individual campaign contributors, we need an agenda that speaks to the needs of working families and low-income people, not wealthy campaign contributors."
Sanders said that with more participation and mobilization from ordinary and low-income Americans, he could easily defy expectations that someone dogged by the label of "socialist."
"We need to expand the input into the Democratic Party," Sanders continued. "I am very proud that in this campaign, we have seen an enormous amount of excitement from young people, from working people — we have received more individual contributions than any candidate in the history of this country up to this point." — Zeeshan Aleem
7. The candidates explained how they plan to appeal to young voters.
Clinton made a play for the millennial vote after a video question from Connor Franta, who boasts more than five million YouTube followers.
"Hi, I'm 23, and my audience is around the same age. Getting my generation to vote should be a priority for any presidential candidate. Now, I know Sen. Sanders is pretty popular among my peers, but what I want to know is: How are all of you planning on engaging us further in this election?" Franta asked.
Clinton, who has found herself trailing Sanders with younger voters, including women, jumped at the chance to make her pitch.
"Look, this election is mostly about the future and therefore it is of greatest urgency for young people. I've laid out my ideas about what we can do to make college affordable, how we can help people pay off their student debts and save thousands of dollars, how we can create more good jobs — because a lot of the young people that I talk with are pretty disappointed about the economic prospects they feel they're facing," Clinton said.
She said she has plans to address "ways to protect our rights, especially from the concerted Republican assault on voting rights, on women's rights, on gay rights, on civil rights, on workers' rights. And I know how much young people value their independence, their autonomy and their rights."
Pressed on why Sanders is getting more traction among millennial voters, Clinton downplayed his lead.
"I have the greatest respect for Sen. Sanders and for his supporters, and I'm going to keep working as hard as I can to reach as many people of all ages about what I will do, what the experience and the ideas that I have that I will bring to the White House, and I hope to have their support when I'm the Democratic nominee." — Celeste Katz
8. Clinton opened up a new line of attack on Sanders over Wall Street.
Turning to Wall Street reform, Clinton defended herself from Sanders by linking herself to Obama, charging that Sanders was opposed to Dodd-Frank and positioning herself as the inheritor of the Obama legacy.
Sanders was asked about the difference between his proposals to take on Wall Street and Clinton's, and took the opportunity to highlight the fact that Clinton has been hundreds of thousands of dollars in speaking fees to big banks and financial institutions.
"The first difference is I don't take money from big banks," Sanders said. "I don't get personal speaking fees from Goldman Sachs."
Given the chance to respond, Clinton wrapped herself in Obama's legacy.
"[Sanders] has criticized President Obama for taking donations from Wall Street, and President Obama has led our country out of the great recession," Clinton said. "Sen. Sanders called him weak, disappointing, and in 2011 publicly sought someone to run in a primary against President Obama."
"I'm going to defend President Obama for taking on Wall Street, taking on the financial industry, and getting results," she said.
Clinton's maneuver was an attempt to deflect Sanders attacks on her cozy ties to Wall Street, and was similar to her positioning on health care earlier in the debate. In her framing, she would be the defender of the progress made under Obama, while Sanders would put that progress at risk by reopening debate on policy debates Democrats have already won. — Stefan Becket
9. Sanders admitted the middle class will pay more taxes than he once promised — but said he didn't break his word.
Perhaps the most crucial policy question of the night swirled around Sanders' plan for financing single-payer healthcare, which he released just hours before the debate.
Sanders' plan includes a 2.2% health care premium and a 6.2% payroll tax, both of which would effectively raise taxes on average working Americans. When asked whether his new plan breaks a pledge not to raise taxes on the middle class, Sanders said he had not broken his word. His argument? Ultimately people would save money because those taxes would be replacing much higher-cost premiums that exist under the current private health care system.   
"It is not breaking my word ... It's one thing to say I'm raising taxes, it's another thing that we are doing away with private health insurance premiums," Sanders said. "If I save you $10,000 in private health insurance, and you pay a little bit more in taxes in total, there are huge savings in what your family is spending." — Zeeshan Aleem
10. Clinton on her relationship with Putin: "It's...interesting."
As secretary of state in 2009, Clinton famously presented Russian Foreign Minister Sergey Lavrov with a misspelled "reset" button. The mistranslated gadget was supposed to be a tangible sign that the U.S. wanted to improve diplomatic relations.
Asked if she would go for another reset as president in the wake of Russia's annexation of Crimea, support for Syrian President Bashar al-Assad and other moves that  to U.S. interests, Clinton replied, "It would depend on what I got for it."
The former secretary rattled off a list of accomplishments logged by the Obama administration, and positioned herself as having taken a tough stand on against Russian President Vladimir Putin.
Clinton described her relationship with Putin — who has voiced support for GOP frontrunner Donald Trump — as "interesting," reaping laughs from the audience.
"Well, my relationship with him, it's — it's, it's interesting," she said, drawing laughs from the crowd. "It's one, I think, of...respect." — Celeste Katz
11. Clinton says her husband's role in her administration will begin at the kitchen table.
When the moderators asked Clinton, who would be the first spouse of a former president in the White House, what kind of advisory role Bill Clinton would play in her White House, she suggested it would begin in a highly informal manner, but may evolve beyond that depending on how she felt.  
"Well, it'll start at the kitchen table, we'll see how it goes from there," Clinton said to laughter and applause. "I'm going to have the very best advisors that I can possibly have, and when it comes to the economy, and what was accomplished under my husband's leadership in the '90s — especially when it came to raising incomes for everybody, and lifting more people out of poverty than any time in recent history — you bet, I'm going to ask for his ideas."
She implied that rather than immediately assign him a major policy objective — as he did when he put her in charge of health care reform in the early 1990s —  she would have him play a role of surrogate on a local level.
"I'm going to ask for his advice and I'm going to use him as goodwill emissary to go around the country to find the best ideas we've got, because I do believe as he said, everything that's wrong with America has been solved somewhere in America," Clinton said. — Zeeshan Aleem