This Bernie Sanders Side-Eye From the Democratic Debate Is Everything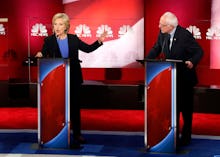 Stephen B. Morton/AP
Vermont Sen. Bernie Sanders made plenty of verbal attacks against his main opponent and former Secretary of State Hillary Clinton at the Democratic debate Tuesday — but perhaps he said most when he said nothing at all. Sanders' side-eye at Clinton during one of her arguments at Sunday's debate quickly gained traction on social media because... well, it was simply too fierce not to go viral. 
"[Sanders] criticized President Obama for taking donations from Wall Street," Clinton said during the debate. "Senator Sanders called him weak, disappointing. He even in 2011 publicly sought someone to run in a primary against the president." The comment brought out possibly the best side-eye ever from a presidential hopeful: 
More than 2 million people watched a Vine of Sanders' sassy side-eye at Clinton during the NBC/YouTube fourth Democratic debate. Twitter users attached the epic facial expression to a wide range of applicable situations, from, "when someone in your crew sings along to a Nickelback song on the radio," to, "tfw you're in a room with friends and start to smell something." 
During the debate, Sanders and Clinton sparred over several leading issues, not least among them Sanders' voting record on guns, how to reform the criminal justice system, Clinton's connections to Wall Street and taxes. Former Maryland Gov. Martin O'Malley was hardly heard, something that didn't go unnoticed by viewers. 
Going into the debate, Clinton led the Democratic pack with 59% support among likely Democratic voters, according to the latest results from NBC News/Wall Street Journal. Sanders trailed Clinton at 34%; O'Malley came in third at 2%.