Hillary Clinton vs. Bernie Sanders: Who Won the Democratic Debate?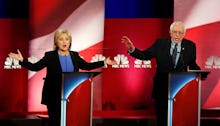 Mic Smith/AP
As the gap in their poll numbers closes and the Iowa caucus approaches, former Secretary of State Hillary Clinton and Vermont Sen. Bernie Sanders turned up the heat during the fourth Democratic debate Sunday (former Maryland Gov. Martin O'Malley was there too, but he didn't really say much). 
Clinton and Sanders went toe-to-toe over several key issues including health care just hours after Sanders announced his single-payer health care for all plan, which Clinton said is a plot to end the Affordable Care Act, commonly known as Obamacare. "He wants to end Medicare and Medicaid and the children's health insurance program," Clinton said. "That is nonsense."
On Sanders' favored topic of financial reform, the senator pointed out that he doesn't take campaign money from big banks, but that Clinton does. "I don't take money from big banks," he said. "I don't get personal speaking fees from Goldman Sachs." (Here's a full recap of the debate).
On the question of who won the debate — Clinton or Sanders – Twitter users weighed in. New York Times Nicholas Kristof thought the candidates had balanced strengths and weaknesses throughout the debate.
Some thought Clinton dominated the debate. 
While others thought it was a clear win for Sanders, highlighting his strong defense on his gun control voting record and ability to focus on the issues without relying on attacks against Clinton.