Kanye West Drops "No More Parties in LA" With Kendrick Lamar — Lyrics and How to Stream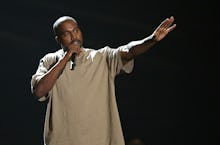 Matt Sayles/AP
Kanye West released the full version to "No More Parties in L.A." with Compton, California-native Kendrick Lamar early Monday. The track is expected to be one of the newest singles on West's follow-up album to Yeezus, titled Swish. West tweeted that the new single would come "very, very extremely soon," then tweeted a link with the full track to Soundcloud.
Fans may be disappointed to learn that any new songs from West are not expected to be a part of a G.O.O.D Fridays revival. In 2010, West released a new song every Friday, leading up to the release of his album, My Beautiful Dark Twisted Fantasy. 
Read more:
"I soooo didn't mean to lie to you guys about GOOD FRIDAYS coming back," Kanye West's wife, Kim Kardashian West, wrote online Sunday. "Kanye flew to Italy for a Yezzy Season 3 fitting," 
"I know some fans who thought I wouldn't rap like this again/ But the writer's block is over, emcees cancel your plans," West sings on the track. The full lyrics to "No More Parties in L.A." are available on Genius. 
Earlier this month, West teamed up with Ty-Dolla Sign to release the track "Real Friends." The collaboration, posted to Soundcloud, was followed by a sample of "No More Parties in L.A.", with Lamar. According to Kim Kardashian West, this is the first time the two hip-hop superstars have teamed up on a track. 
Listen to the Kanye West and Kendrick Lamar collaboration below.
Source: Soundcloud
West announced Swish would be released on Feb. 11.