Gas Prices Drop Below $1 in Michigan, Lowest in the US "in Years"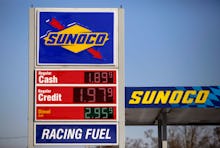 Joshua Lott/Getty Images
Over the weekend, gas prices at several stations in Michigan dropped well below $1 a gallon, the lowest in the country and the first time prices in the United States dipped under $1 in years. On Sunday, prices at one station in Houghton Lake, Michigan, fell as low as 47 cents per gallon, according to Gas Buddy, which tracks fuel prices across the country. Other stations boasted gas prices of 95 cents a gallon.
"It appears these stations are currently the first stations in the country to see prices under $1 per gallon in years," GasBuddy reported, according to NBC 25. Prices, however, were not static and continued to fluctuate. On Monday, the cost of a gallon of gas at the same Michigan stations appeared to rise above $1 again, says Gas Buddy. The average fuel price in the state hovered around $1.71 Monday.
Experts cited a "gas war" in Michigan between rival fuel stations as the reason for the weekend's sharp decline in gas prices. 
The dip in fuel prices comes after the U.S. and European Union lifted sanctions against Iran, a major oil producer, a move that could see Iran export as many as 500,000 additional barrels a day, according to 24/7 Wall St. 
In the U.S., the average price of a gallon of gas on Monday was $1.89. Fuel prices across the country in recent weeks have continued to fall. Gas prices remained highest along the U.S. Pacific coast, particularly California and Alaska.