What's 'No More Parties In LA' About? Here's the Meaning Behind Kanye's New Song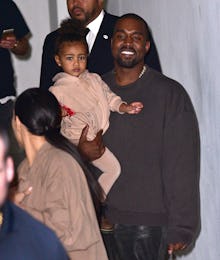 James Devaney/Getty Images
No more parties in Los Angeles? What, for everyone? Or just for Kanye and Kendrick Lamar? What is this, what are they talking about?
"No More Parties in L.A." is the first single off of Kanye's forthcoming album, Swish. He dropped the track, which features Lamar, on Monday morning — much to the delight of his internet audience, which has been impatiently awaiting new music from the artist ever since Kim Kardashian West tweeted that her husband would bring back his practice of treating fans to weekly musical snacks (otherwise known as G.O.O.D. Fridays).
On Monday, Kanye made G.O.O.D. Mondays a thing, maybe, announcing on Twitter that his latest track was up on SoundCloud, mere hours after tweeting that it was on its way "very very extremely soon."
And so far, people are into it. 
Yes, yes, it's all very good, but what does it mean?
Well. Let's take a look at the lyrics, like this hefty section that Kanye raps:
I remember Amber told my boy no matter what happens she / Ain't going back to Philly / Back to our regularly scheduled programmin' / Of week content of slow jammin' / But don't worry, this one's so jammin' / You know it, L.A., it's so jammin' / I be thinkin' every day / Mulholland Drive, need to put up some god damn barricades / I be paranoid every time / The pressure, the problem ain't I be drivin' / The problem is I be textin' / My psychiatrist got kids that I inspired / First song they played for me was 'bout their friend that just died / Textin' and drivin' down Mulholland Drive / That's why I'd rather take the 405 / I be worried 'bout my daughter, I be worried 'bout Kim
And another:
It's just me, I do it my way, bitch / Some days I'm in my Yeezys, some days I'm in my Vans / If I knew y'all made plans I wouldn't have popped the Xans / I know some fans who thought I wouldn't rap like this again / But the writer's block is over, emcees cancel your plans
The song itself begins with this refrain:
No more parties in L.A. / Please, baby, no more parties in L.A.
Which leads into this:
Hey baby you forgot your Ray Bans / And my sheets still orange from your spray tan
And a long verse in which Kendrick Lamar raps about coming up from nothing into the world of celebrity, excess, and — of course — the extravagant L.A. lifestyle. Taken all together, the song sounds like a farewell to the parties and the irresponsible behavior of his youth. Kanye has two kids now; still the same irreverent, egocentric Kanye, but he's growing up. He has his family to consider. And nightly Hollywood parties aren't a comfortable fit with family life. L.A.: The eternal generator of "Goodbye to All That"-type sentiment, both for writers and rappers, apparently.
That's just one reading. Who can know what goes on inside Kanye's mind, other than possibly Kim? Readers can give the song a listen below and decide for themselves. Look out for Swish on Feb. 11. 
Source: Soundcloud