The First Winter Storm of 2016 Is Developing. Here's a Look at Who's Getting It the Worst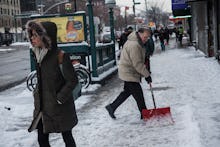 Andrew Burton/Getty Images
So far this winter has been unusually mild for many parts of the Northeast, leading some to wonder where all the season's usual snow and ice have been. Never fear, snow-lovers (and brace yourselves, snow-haters), because the first storm of the season is on its way.
Forecasts are predicting that the first major snowstorm of the season will hit much of the Northeast at the end of this week, from Washington, D.C., all the way up to Boston, according to AccuWeather.com.
The storm is expected to hit hardest from Friday evening into Saturday, reports AccuWeather.com, which warned that "this is the type of storm that is likely to produce a very heavy rate of snow."
Current predictions suggest that some areas, including New York City, may see as much as 1 to 2 feet of snow as the storm picks up moisture off the coast. This impending storm could mean travel delays on the roads and in the skies, and may slow down public transportation as well.
There's still time for the forecast to change before the end of the week, but it's never too soon to start stocking-up on canned goods and board games.