Muslim Group Donates 30,000 Bottles of Water to Flint, Mich.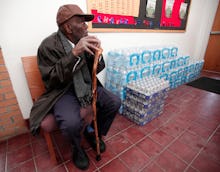 A Muslim group called "Who is Hussain?" is donating 30,000 bottles of fresh water to help assist beleaguered residents of Flint, Michigan. The city is currently in the midst of one of the largest water contamination scandals in U.S. history.
According to the group's website, Who is Hussain bills itself as an aid organization and takes its name from the 14th century grandson of the Islamic prophet Mohammad, Hussain ibn Ali, whose Koranic story of selflessness inspired the group's mission.
"We aim to inspire people through the timeless example of Hussain and bring positive change in the world we live in," the group says on its website. "Our reps and volunteers organize events to give back in their local communities, ranging from blood donation drives to feeding the homeless and much more."
The group operates around the world and the Flint water drive was taken up by a chapter in Michigan. The city of Dearborn, Michigan, roughly an hour from Flint, has the highest Arab population in the United States at nearly 30%, according to the 2000 census.
"We saw what needed to be done and we decided to do it," Dr. Aziza Askari, a representative for the Michigan chapter, told the Washington Times. "We reached out to schools, neighbors, friends, mosques, anyone and everyone to help us by donating a case of water, or money towards a case."
The Flint water crisis garnered worldwide attention after the toxicity of the Michigan city's water supply prompted Gov. Rick Snyder to declare a state of emergency. The city began piping contaminated water to its residents after, in an attempt to save money, it rerouted the tap from Detroit's municipal supply to the waters of the Flint River. The river's water then picked up the lead toxins from the city's corrosive plumbing system.
Problems began, however, after iron and lead from old pipes began seeping into the local water supply. For more than a year, Flint residents complained of brown water only to be told that their concerns were unfounded, CNN reported. In fact, the new water was not being treated with an anti-corrosive agent mandated by the federal government, resulting in water contaminated by both iron and lead.
On Saturday, Flint native and Academy Award winning documentary filmmaker Michael Moore held a rally in his hometown to demand accountability. "This is not a mistake," said Moore, according to the Detroit Free Press. "Ten people have been killed here because of a political decision. They did this. They knew." The crisis also made its way to the Sunday night Democratic debate, with Vermont Sen. Bernie Sanders demanding that Snyder step down. 
"A man who acts that irresponsibly should not stay in power," said Sanders.