Spike Lee Is the Latest Star to Announce He's Boycotting the 2016 Oscars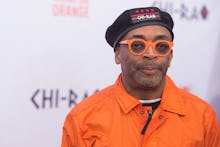 Charles Sykes/AP
The nominations for the 2016 Academy Awards were announced last week — spurring shock and disappointment that, for the second year in the row, not a single person of color was nominated in any of the acting categories. Only one of the eight films that received nominations for best picture was directed by a person of color.
Within hours of the announcement, #OscarsSoWhite was trending on Twitter, and on Monday , actress Jada Pinkett Smith took to Facebook to announce that, in protest of the snub, she would be boycotting the Oscars. That same day, Academy-Award nominated director Spike Lee announced via Instagram that he too would be boycotting the Oscars.
Read more:
"My wife, Mrs. Tonya Lewis Lee and I will not be attending the Oscar ceremony this coming February. We cannot support it," Lee wrote in his Instagram post, adding, "How is it possible for the 2nd consecutive year all 20 contenders under the actor category are white ...  for too many years when the Oscars nominations are revealed, my office phone rings off the hook with the media asking me my opinion about the lack of African-Americans and this year was no different."
Lee also acknowledged that Monday is Martin Luther King Day, and posted a photo of King in a graduation cap and gown along with his message, which included a quote attributed to King.
It remains to be seen whether others in the industry will follow their leads. 
As of Monday afternoon, the Academy of Motion Picture Arts and Sciences had not issued a response to either Pinkett Smith or Lee's announcements, but on Thursday, Academy president Cheryl Boone Isaacs told Deadline that she was "disappointed" that not a single person of color had been nominated in the acting categories.