Is NWA Performing at Coachella? Ice Cube Is Raising Our Hopes for a Reunion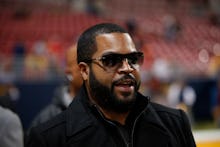 Billy Hurst/AP
Coachella 2016 is shaping up to be particularly promising. Guns n' Roses is playing; it's a landmark year for the number of female artists on deck; and, on Friday, festival-goers got more good news. During an episode of The Talk, actor and legendary rapper O'Shea Jackson, or Ice Cube as he's better known, said he was reuniting hip-hop collective N.W.A. on stage at this year's festival. This year's event will happen during two separate weekends, beginning with April 15 through 17. A second weekend of performances will follow on April 22 to 24. 
"I've got some tricks up my sleeve," the rapper told The Talk  during an appearance to promote his latest movie, Ride Along 2. "I'm gonna try to bring the members of N.W.A. together. Give everybody a little history lesson on Ice Cube and N.W.A., Westside Connection, everything I've been doing over the years."
"We have some great visuals," he added, pointing out that the group will perform on the same night that Guns 'n' Roses reunites. "It's gonna be a great night!"
Read more:
Though the Compton, California, group was only active between the years of 1986 and 1991, N.W.A. left quite the legacy, in part due to the musical careers its members went on to lead. In addition to Ice Cube, N.W.A. members included rappers Dr. Dre, MC Ren, DJ Yella and and the late artist Eazy-E. According to the group's biography, it's been placed on Rolling Stone's "100 Greatest Artists of All Time" list, and many of the group's members have become platinum-selling artists. 
During its tenure, the band released two compilations and three studio albums, including the 1988's epic LP, Straight Outta Compton. 
In addition to hip-hop and rock royalty, a number of up-and-coming and established artists will be in attendance at this year's Coachella Valley Music and Arts Festival. Just a few of those artists include Sufjan Stevens, LCD Soundsystem, Calvin Harris, Sia, Major Lazer, Beach House, Courtney Barnett, Lord Huron, Foals, Ellie Goulding and Purity Ring. For ticket pricing and purchase options, head here.