Who Is Christine Chubbuck? The Suicide Story Behind Sundance's Two Biggest Films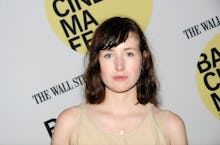 Desiree Navarro/Getty Images
Two of the most anticipated films in the 2016 Sundance lineup take different approaches in telling the same harrowing true story about Florida reporter Christine Chubbuck, who committed suicide on live television more than 40 years ago. Christine, a film based on the story, and Kate Plays Christine, a documentary about actress Kate Lyn Sheil preparing to play Chubbuck for a different film, resurface Chubbuck's infamous staged and broadcasted suicide in 1974. 
Chubbuck hosted the Sarasota, Florida, news program Suncoast Digest for WXLT Channel 40 and, according to the Sarasota Herald Tribune, "detested" the channel's growing tendency to focus on gory news stories to boost ratings. A combination of that disapproval and depression spurred by her lack of a boyfriend led the reporter to orchestrate her suicide during a live WXLT broadcast at age 29. 
The morning of her death, July 15, 1974, Chubbuck arrived at work with her own script prepared, which according to the Tribune was unusual, and said she was going to start by reading some additional news. 
"Christine Chubbuck flicked her long dark hair back away from her face, swallowed, twitched her lips only slightly and reached with her left hand to turn the next page of her script," the Washington Post reported in 1974. "Looking down on the anchor desk she began to read: 'In keeping with Channel 40's policy of bringing you the latest in' —  she looked up from the script, directly into the camera and smiled a tentative smile — 'blood and guts, and in living color, you're going to see another first: An attempted suicide.'"
Then, according to the Tribune, she grabbed a .38 revolver from a grocery bag under her desk and shot herself in the head behind the ear. A Reddit post claimed someone in the control room blacked the screen before viewers could see the actual shot, but a single copy of the footage was given to her family and is no longer available to watch anywhere. 
Another reporter then took over the telecast and said Chubbuck was rushed to the hospital in critical condition. Chubbuck died 14 hours later at age 29, according to the Tribune, in what was the first suicide to take place on live television in the United States.
Iron Man 3 actress Rebecca Hall stars as Chubbuck in Christine, directed by Antonio Campos of indie films including 2012's Simon Killer and 2005's Buy It Now. Kate Plays Christine follows indie film star Sheil's experience prepping to play Chubbuck in another production, and is directed by American filmmaker Robert Greene.
Correction: Jan. 19, 2016