Kylie and Kendall Jenners' PacSun Collection Hits Stores This Week. Here's All the Info.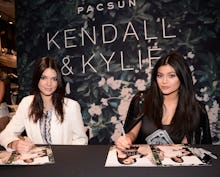 Dan Steinberg/AP
PacSun's latest fashion collection from Kylie and Kendall Jenner will be available in stores and online on Wednesday. On Sunday, Kylie Jenner tweeted a picture of her in a patterned red romper with the caption, "Spring vibes," and a three-day countdown to the Spring 2016 collection.
California natives Kendall and Kylie Jenner have been working with the California lifestyle-inspired fashion site since 2012, according to the Daily Mail. Like its predecessors, the Spring 2016 line is 70s-inspired, filled with florals and denim overalls that have probably been well-calculated for the upcoming festival season. 
Read more:
Prices range from $22.95 to $64.95, according to Teen Vogue.
Kendall Jenner has also been teasing fans about the new collection. Earlier this month, she tweeted pictures of herself in denim overalls posing alone and with her sister. One caption says, "Dreaming of spring."
A Sunday promo video shows the girls donning off-the-shoulder tops, wide-rimmed hats and lots of rompers from the new collection.
Hopefully the latest collection goes well, since Kylie and Kendall Jenner's Fall 2015 collaboration with PacSun hit a wall last October, when Florida-based retailer Island Company sued the two sisters for stealing a trademarked logo, according to Page Six. Island Company's logo, which has been running since 2005, said, "Quit your job. Buy a ticket. Get a tan. Fall in love. Never return," while the PacSun one said, "Run away. Fall in love. Never return." 
The promo video for the Spring 2016 collection is below: