Flint, Michigan's Toxic Water Is Devastating — Here's How You Can Help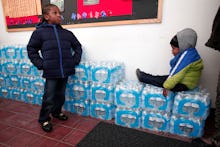 Bill Pugliano/Getty Images
While donating water to Flint, Michigan, has become something of a trend — having attracted support from celebrities such as Cher, who, during the weekend donated 180,000 bottles of water to the town's residents, there's nothing trendy about what's happening in the Midwestern city. Flint has been pitched into a crisis over its toxic public water, a problem many say state officials have helped to create. Many in the suburban Detroit town are living below the poverty line, and families are struggling. Here's how to help.
One way to contribute is to offer a financial donation to the United Way of Genesee County, an organization that's erected a fund to help residents gain access to safe drinking water. All donations will go toward buying bottles of water for Flint's residents, water filters to purify water and preventative efforts. Donations can also be made via the Flint Child Health and Development Fund or by giving to the Southeastern Michigan branch of the American Red Cross. 
"100% of the fund is used for these projects and no administrative fee is assessed," reads the United Way of Genesee County's donation page. "The UWGC has sourced more than 11,000 filters systems and 5,000 replacement filters, ongoing sources of bottled water to the Food Bank of Eastern Michigan and also supports a dedicated driver for daily distribution."
Read more:
As inspiration to donate, and in an act of generosity that perhaps speaks volumes about solidarity and unity at a time of heightened anti-Muslim rhetoric in the U.S., a Muslim group has donated 30,000 bottles of water to Flint's residents.
As Mic previously reported, the toxic water in Flint is being billed as a massive failing of government leaders, after the city chose to reduce its water costs by swapping its water source from Detroit to Lake Huron. During the three-year-long pipeline construction, Flint pulled its water from the local and highly-polluted Flint River.
On Thursday, Michigan Gov. Rick Snyder made a plea to President Barack Obama to declare a federal emergency over Flint's toxic water, which the president did on Saturday. Michigan Attorney General Bill Schuette said he would investigate the situation in order to make clear whether or not state laws have been violated.
"The situation in Flint is a human tragedy in which families are struggling with even the most basic parts of daily life," Schuette said in the statement. "While everyone acknowledges that mistakes were made, my duty as attorney general requires that I conduct this investigation."
"As a husband and father, I greatly empathize with the fears of Flint parents and family members, who are rightly concerned for their health," Schuette added in the statement. "In 21st century America, no one should have to fear something as basic as turning on the kitchen faucet."
The issue in Flint has entered the national stage and presidential hopefuls have begun to weigh in. On Saturday, Democratic candidate and Vermont Sen. Bernie Sanders issued a statement condemning how state officials have handled the crisis and calling for Snyder's resignation. 
"Because of the conduct by Gov. Snyder's administration and his refusal to take responsibility, families will suffer from lead poisoning for the rest of their lives," Sanders said in the statement. "Children in Flint will be plagued with brain damage and other health problems. The people of Flint deserve more than an apology."
And during the first Democratic debate of election year 2016, which happened on Sunday during the long holiday weekend, party frontrunner Hillary Clinton put the crisis in Flint at the center of her closing remarks when she made a crucial point about how the socioeconomic status of the residents in Flint might have contributed to the inaction and failings of government leaders. 
"I'll tell you what, if the kids in a rich suburb of Detroit had been drinking contaminated water and bathed in it, there would have been action," Clinton said. "I want to be a president that takes care of the big problems and the problems that are affecting the people of our country every day."