These Snack-Inspired Makeup Tutorials Are the Yummiest Thing on Instagram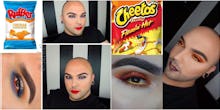 Few things are more comforting than snacks. We're talking salty, calorie-filled, crap-tastic snacks. Extra points if they evoke childhood nostalgia.
That, combined with some seriously impressive makeup skills, has the internet falling in love with Tim O, a makeup maven basing his looks on snack packaging. There's a fierce green lipstick look paired with Funyuns, a layered purple eyeshadow look to match a pack of Wildlicious Wild! Berry Pop-Tarts and more.
Warning: Don't scroll through his Instagram if you're hungry.
"How I choose my snacks is whatever is the most delicious to me, and whatever has the best color combos!" Tim told Mic via email. "These snacks have amazing colors, and one day I thought, well hot damn, these colors would look good on my face. So I went with it and did a hot Cheetos look and everyone loved it!"
The makeup itself is impressive — bold, detail-oriented and not at all subtle, in the mode of other major male makeup artists online. Not all of Tim's shots, which he started sharing on Instagram about 10 months ago, are based on snacks or have to do with food at all. Even if you're just into colorful eyeshadow, winged eyeliner and matte lipstick, his feed is worth the visit.
But by bringing snacks right into the photo frame, Tim's photos are also a "screw you" to the pressure in the style and beauty world — especially on Instagram — to embrace an impossibly healthy life full of green juices and an accompanying skinny body. Because forget that: Snacks are delicious.
"At first, I was so scared, thinking people weren't gonna get my humor and embrace my fatness but they loved it!" Tim told BuzzFeed. But that fear seems to have subsided.
He added to Mic, "The inspiration [for the makeup looks] all comes from me being a fat bitch and seeing the beauty in the bag..." He added, "And to be honest I don't eat them after... I eat them during, while I'm creating the look. I'm too much of a fatty to wait till after to eat them lol."
Jan. 19, 2016, 1:59 a.m.: This post has been updated with comment from Tim O.
h/t Refinery29