Japan Minister Thinks Term "Sex Slaves" Inaccurate for Women Japan Forced Into Sex Slavery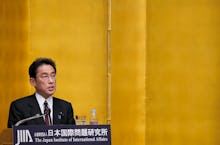 He prefers the term "comfort women," actually.
During a parliamentary budget session meeting on Monday, Japanese Foreign Minister Fumio Kishida argued that the term "'sex slaves' doesn't match the facts" of what happened to the hundreds of thousands of women forced into sex slavery by Japan during World War II, according to the Japan Times.
His statement — which came in response to a question from Takashi Uto, also a member of the Liberal Democratic Party — comes less than a month after Japan's government agreed to pay $8.3 million in compensation to victims of its campaign of sexual terror in South Korea.
Kishida added that the term "victims of the comfort-women issue of the Japanese military" is preferred by the government in Seoul. While both governments recently reached a pact on the issue, the "comfort women" terminology — a flagrant euphemism — has been subject to debate, as news outlets worldwide, including Mic, have frequently used "sex slaves" instead.
Japan and South Korea agreed to the settlement on Dec. 28, after years of tension between the two Asian powers. From 1910 to 1945, Japan's military empire forced an estimated 200,000 to 300,000 women and girls into sexual slavery at the disposal of Japanese soldiers.
The legacy of this violence in South Korea — where 46 former, so-called "comfort women" still live today — has hurt diplomacy between the two countries. In 1993, Japan formally apologized and a set up a fund that relied on private donors to compensate victims. But that fund was never fully recognized by South Koreans, and the debate roiled on. 
Then in 2011 — in a definitive toss of the proverbial gauntlet — a statue was erected in South Korea of a little girl meant to signify the World War II sex slaves in front of the Japanese embassy in Seoul. Four years later, the two countries reached a financial agreement, with the establishment of a fund paid for by the Japanese national budget, that would cover medical and nursing services for the survivors.
The average age of the surviving "comfort women" in South Korea is 89, according to Reuters.
The settlement also came with a major qualifier — from now on, Seoul will suspend all criticism of Japan over its sexual enslavement of South Korean women. For some victims, the trade-off isn't worth it. "We are not craving for money," said Lee Yong-soo, an 88-year-old survivor who protested the agreement, according to the New York Times. "The agreement does not reflect the views of former comfort women. I will ignore it completely."
h/t Japan Times