Sundance 2016: 6 Documentaries Everyone Will Be Talking About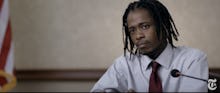 YouTube
As usual, anticipated indie Sundance Film Festival will premiere and screen a plethora of groundbreaking documentaries in its 2016 lineup. The non-fiction films of this year's festival tackle and shed light on lesser-told and controversial stories including a television reporter's 1974 staged suicide, Anderson Cooper's relationship with his artist-author-actress-heiress-socialite mother Gloria Vanderbilt and a virtual reality experience with never-before-seen World War I photographs. 
Here are six documentary films earning noteworthy buzz ahead of the 2016 Sundance Film Festival:
Verbatim: The Ferguson Case
The New York Times premiered this 16-minute "op-doc" by Los Angeles filmmaker Brett Weiner in August, but screening at Sundance should earn it more recognition. In the documentary, Weiner presents two conflicting reenactments of the 2014 shooting of unarmed black teenager Michael Brown by a white police officer, based on two key witness accounts. 
"The testimony led me to an unexpected conclusion," Weiner wrote for the Times back in August. "The story of what happened in Ferguson, as told through these documents, was certainly tragic, but was also much more complicated than I'd previously understood."
The Unknown Photographer
The Unknown Photographer allows viewers to engage as the photographers in a virtual reality experience with never-before-seen, newly-uncovered album of photographs from World War I that the filmmakers said will reveal new information about the war. 
Kate Plays Christine
This documentary follows actress Kate Lyn Sheil as she prepares to play Christine Chubbuck, a Florida television news reporter who staged her own suicide in a 1974 live broadcast, in an upcoming film. Christine, another film based on Chubbuck's story, in which actress Rebecca Hall will play Chubbuck, will also premiere at Sundance. 
Holy Hell
Holy Hell is about a West Hollywood spiritual group where all hell broke loose as it imploded 20 years after its creation, but arguably more notable is the film's lack of a named director. The documentary was directed by a currently anonymous director that could be revealed along with its screening at the festival.
King of Pop: Michael Jackson's Journey from Motown to Off the Wall
Sundance veteran Spike Lee's documentary about late Jackson's journey from the Jackson Five to being dubbed the "King of Pop" seeks to shed light on Jackson's honorable work ethic and passion about his career and music, despite his questionable reputation as a person. 
"Michael Jackson is one of the most iconic stars of the last 50 years. And yet, he has such a tricky reputation now," Sundance programming director Trevor Groth told Entertainment Weekly. "The film focuses on his drive and commitment. What a hard worker he was, not just on how talented he was. It looks at when he transitioned from the Jackson Five into a solo career. For fans, I think it's going to play through the roof. And for not fans, they're going to be fascinated."
Nothing Left Unsaid: Gloria Vanderbilt and Anderson Cooper
Nothing Left Unsaid is a conversation of love and loss between journalist Anderson Cooper and his mother Gloria Vanderbilt of the famously wealthy Vanderbilt family. 
"It's one not to be ignored," Groth told Entertainment Weekly. "She was the richest girl in America for years. She inherited millions of dollars when she was just 8 years old. But she had a lot of tragedy too. And him talking to her brings out a side that she's pretty much put away until this film."