The Nation's Largest LGBT Rights Group Just Endorsed Hillary Clinton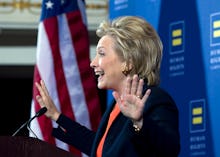 The Human Rights Campaign, the nation's largest pro-LGBT advocacy group, endorsed Hillary Clinton for president on Monday, citing the Democratic frontrunner's support for marriage equality and comprehensive civil rights protections for the LGBT community.
In a statement, HRC president Chad Griffin contrasted Clinton's record on LGBT issues with those of the leading Republican candidates for president, saying that Clinton would safeguard the LGBT rights gains secured under President Barack Obama, including nationwide marriage equality and executive action prohibiting anti-LGBT discrimination by federal contractors.
"While they fight to take us backwards, Hillary Clinton is fighting to advance LGBT equality across our nation and throughout the world," Griffin said. "We are proud to endorse Hillary Clinton for president and believe that she is the champion we can count on in November — and every day she occupies the Oval Office."
An ongoing fight: The endorsement came after HRC's board voted unanimously to back Clinton's candidacy, the organization said. Clinton will formally accept the group's endorsement at a rally on Sunday in Des Moines, Iowa.
After the group announced its endorsement Monday, Clinton emphasized that the fight for full LGBT equality was far from finished, nearly seven months after the Supreme Court's landmark marriage ruling in the Obergefell v. Hodges case.
"Too many LGBT Americans still face discrimination — in employment, in housing, in education, in health care —because of who they are or who they love. And the stakes in this election couldn't be higher," Clinton said. "The Republican candidates for president have not only hurled hateful, insulting rhetoric about the LGBT community, they've made it clear that if elected, they will roll back the rights that so many have fought for."
Last month, Clinton rolled out a comprehensive LGBT rights agenda, the centerpiece of which is the Equality Act, which would add sexual orientation and gender identity to the list of protected classes under the Civil Rights Act of 1964. The HRC lauded Clinton's proposals, telling Mic at the time that Clinton's plan would "address LGBT discrimination at the federal level, fight the epidemic of violence against transgender Americans, advance equality around the globe and more."
Longstanding ties: While Clinton, who endorsed marriage equality in a 2013 HRC video, lagged her opponent Sen. Bernie Sanders (I-Vt.) by four years in affirming gay couples' right to marry, HRC's endorsement of the former secretary of state is no real shock. Griffin, who has led HRC since 2012, has long been a part of the Clinton orbit. As a Washington Post profile noted, he worked in the rapid-response "war room" for Bill Clinton's 1992 presidential campaign and later worked in the Clinton White House. Griffin is also a native of Hope, Arkansas, Bill Clinton's tiny hometown.
This is the earliest HRC has backed a presidential candidate amid a contested primary. In 2008, the group waited until June 6, 2008, to endorse then-Sen. Barack Obama, days after he had clinched the Democratic nomination and one day before Clinton conceded the race.
Watch the HRC's endorsement video below: