This Refreshing Country Music Video Features 2 Gay Cowboys Having Sexy, Sexy Sex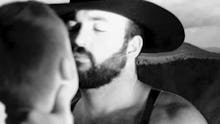 Country music videos don't have nearly enough gay sex in them.
But this is finally changing thanks to Nashville alt-country band Indiana Queen, which recently released a steamy new clip for its song, "I Don't Know What to Do." The video is all about two dudes getting it on, bringing a tender depiction of gay intimacy into a musical genre that isn't traditionally thought of as progressive. 
The moody black and white clip is v. Brokeback Mountain meets Chris Isaak's "Wicked Game" meets vintage gay leather bar. Which is to say that it is pure homosexual perfection.
Indiana Queen frontman Kevin Thornton told the Huffington Post that the song is actually about a couple with mismatched libidos (a fairly common problem, as Mic has previously reported).
"[It's] about those times when you are feeling the sexy magic and the other person isn't," he said. "My initial inspiration for the video was film noir cowboy and horse fantasy."
Thornton asked his pals Phillipe and Nick, who happen to be an IRL couple in Nashville, to star in the video. Their chemistry was ultimately so intense that the horse was just entirely removed from the equation altogether, which was probably in the best interest of everyone involved. 
"They brought so much chemistry it morphed into something else," Thornton said. "I really love the end result."
While an artfully shot two-minute video of dude-on-dude action might seem like NBD in our increasingly progressive culture, the fact that this one is from a music genre that tends to lean conservative makes it subversive.
While some strides have been made in recent years toward more LGBT acceptance in country music — most notably, the massive success of Kacey Musgraves' gay-friendly-because-of-a-single-line-about-girls-kissing-girls song "Follow Your Arrow" in 2014 — the country music industry still has a long way to go in terms of gay acceptance.
When mainstream country act Little Big Town released a song called "Girl Crush" last year, for instance, it was pulled from a number of country radio stations — despite the fact that the song itself was about heterosexual romance.
Meanwhile, while LGBT songwriters are now able to reach certain levels of success behind the scenes, putting actual gay artists front and center on the country stage is still a pretty risky move. When once-popular country singer Chely Wright came out as a lesbian in 2010, she dealt with major backlash from her audience. 
The coming-out of male country singers Ty Herndon and Billy Gilman (on the same day!) four years later reflected some progress, but it didn't exactly result in the "sea change" that some hoped for. Gilman expressed his disappointment with country music execs in a YouTube video, saying that "being a gay male country artist is not the best thing ... If people don't like your music, that's one thing. But after having sold over five million records, having a wonderful life in the music industry, I knew something was wrong when no major label wanted to sit down and have a meeting and listen to the new stuff."
The politics of mainstream country music aside, alternative country videos like this new one from Indiana Queen (along with 2013's viral sensation "All-American Boy" by Steve Grand) prove that there is indeed a space for authentic depictions of LGBT love in the genre. And it's only gonna get bigger.
Check out the full video for "I Don't Know What to Do" below:
h/t Huffington Post