David Oyelowo Slams the Oscars, Says the Academy "Doesn't Reflect Me"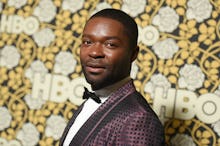 Count actor David Oyelowo among the increasing scores of creators and stars coming out against #OscarsSoWhite.
The Hollywood Reporter reports Oyelowo went off-script at a Monday evening gala for Cheryl Boone Isaacs, president of the Academy of Motion Picture Arts and Sciences, to lay into Oscar voters for their repeated nominations of only white actors. Oyelowo himself missed a nod for his role as Martin Luther King Jr. in 2014's Selma.
"A year ago, I did a film called Selma, and after the Academy Awards, Cheryl invited me to her office to talk about what went wrong then," Oyelowo said in his remarks. "We had a deep and meaningful [conversation]. For 20 opportunities to celebrate actors of color, actresses of color, to be missed last year is one thing; for that to happen again this year is unforgivable."
Saying the Academy has "a problem that needs to be solved," Oyelowo admitted that even as a member of the Oscars' voting body, he doesn't feel represented by its membership. "This institution doesn't reflect its president and it doesn't reflect this room," he said. "I am an Academy member and it doesn't reflect me, and it doesn't reflect this nation."
Oyelowo's call for change joins actress Jada Pinkett Smith and director Spike Lee's calls for boycotting the Oscars this year. The situation has developed to the point where Isaacs put out a statement calling for review of the Academy's membership.
"The change is not coming as fast as we would like," Isaacs wrote in her statement. Oyelowo echoed that sentiment, pointing to black actor-led films and shows like last weekend's No. 1 movie Ride Along 2 and the massively popular Empire as evidence that the Academy must change as Hollywood does to reflect audience interest.
"The Academy is an institution in which they all say radical and timely change cannot happen quickly," Oyelowo said. "It better happen quickly. The law of this country can change in a matter of months. It better come on."
The Oscars will air on ABC on Feb. 28. Oyelowo urged the room to "pray" for Isaacs ahead of the ceremony. "We need to pray for Cheryl, we need to support Cheryl, we need to love Cheryl," he said. "We cannot afford to get bitter, we cannot afford to get negative. But we must make our voice heard."