'Chelsea Does' Releases Friday — Here's a Full Preview of Netflix Series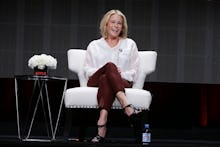 Eric Charbonneau/AP
Comedian Chelsea Handler is next in line for a Netflix original program. She returns to the small screen with a four-part Netflix documentary series titled Chelsea Does, which streams on Netflix on Saturday, according to the New York Post. But those who attend the Sundance Film Festival on Friday will actually get an earlier viewing of the series, the Wrap reported.
Directed by Eddie Schmidt, Handler's Netflix special is actually an introduction for her new thrice-weekly late-night talk show, which will also air on Netflix in May, according to the Los Angeles Times. In it, the Chelsea Lately host "goes after answers" head-on regarding touchy topics like marriage, racism, Silicon Valley and drugs, according to the YouTube promo. 
"I want these docs to inform viewers of the direction I'm going in with my show," she said, according to the Los Angeles Times. "Imagine Google but as a TV show with me as your host — and swearing. You're finding out information in a cool way that's fast, so you don't feel like you're watching 60 Minutes."
Read more:
In other words, audiences need to prepare themselves for Handler to ingest the hallucinogen ayahuasca in Peru, pitch an app in Silicon Valley, talk about marriage with an ex-boyfriend and sit down for a chat with Politics Nation's Rev. Al Sharpton, according to the New York Post. "Are people born racist?" she asked Sharpton in the promo, later saying, "I want to live in a place where a person of every color is able to hit on me."
Each episode will begin with Handler sitting down with a psychologist to discuss her personal thoughts and issues with the episode's topic, Hollywood Reporter reported. Audiences will also get a look into her personal life, including her dog and some of her friends, according to Refinery29. 
In 2014 after eight years on air, Handler left both E! and her well-known late-night show Chelsea Lately, declaring that she was "getting dumber" with each episode and the pop culture-heavy network, according to the Los Angeles Times. "It won't have an SNL vibe," Handler told the New York Post about her new talkshow. "It's just me at the helm, giving people news. We're not going to have a set format with a monologue and desk and two guests and a band. There are so many shows like that on now that it makes my head bleed."
Netflix's chief content officer Ted Sarandos called those types of shows "chaotic," and added that Handler's new show will be "viral just in the way it's watched," the Los Angeles Times reported.
Below are some trailers for Handler's Chelsea Does: