This Nude Photo Shoot Is a Beautiful Rebuttal to All Those New Year's Body Pressures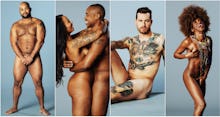 You could mistake it for ESPN The Magazine's Body Issue — until you look a little closer and see who the models are and the message they're sending.
NOW Toronto, a weekly news and entertainment magazine, has released its second annual Love Your Body Issue, featuring local Toronto figures with body image stories to tell. The focus on bodies in a January magazine is nothing new, of course — but that was exactly the point.
"I originally conceived of the [Love Your Body] idea as an alternative to the ubiquitous negative new year messaging we often see in ad campaigns and in media," NOW Toronto fashion writer Sabrina Maddeaux told Mic. "It's usually all about losing weight and finding the 'new you.'"
"Well, what's so wrong with the old you?" she continued. "We wanted to celebrate feeling comfortable in the skin you're in. The inspiration also came from some other prominent magazine's naked photo shoots that always seemed to feature cisgender, white, fit people. We felt we could make our own version that was infinitely more inspiring and diverse."
"Growing up male in Kenya, I was always the shortest and the smallest of all the boys and could never live up to society's masculine ideals." — Biko Beauttah
"I was self-actualizing the next chapter in my life [in the 90s] and embracing how I wanted to look. I've always been drawn to that style and, while tattoos have certainly become more mainstream, they still retain a bit of that outsider culture." — Stephen Bowles 
"At the beginning of the year, people are always making commitments about how they are going to change their bodies, and I think it's important for people to love and honor their bodies." — Kim Kartrin Milan
"My skin color and my body represent so much negativity. It's really important for me not only to show my body in a positive light, but also to use the tools I have to make a difference." — Akio Maroon
"It's very hard to be transgender even in Canada. You are often either dead, suicidal or an escort. I started seeing that the body I once hated and the body I now loved was not being respected." — Xica Ducharme
"Because of that history of being fat and being called fat all the time, I still always second-guessed the way I looked." — Adam Benn
The individuals represented may seem braver than most for stripping down, but their stories all relay concerns and journeys too many of us can relate to — feeling fat, feeling judged for our bodies, feeling like we need to change — especially come Jan. 1. The photos may be grabby, but the messages are as down-to-earth as they come.
As we've written before, nudity can be cheap, especially in fashion shoots that are trying to "push boundaries" and simply steal a few minutes' attention. In an era in which Rihanna and Miley Cyrus regularly show off their semi-naked bodies on red carpets and onstage, it's none too shocking to see a nude body.
That's especially true when that body is yet another celebration of the strict beauty norm — thin, white, taut, perky, young. But the bodies in NOW Toronto are aiming for something more diverse, and the bodies represented are unedited and unfiltered. Rather than tracking down residents who may have the most conventionally attractive bodies, they opted for the ones with the greatest stories to tell.
Like Xica Ducharme, an activist, burlesque performer, writer and stewardess, who told the magazine that posing nude was a way to make a political message about transgender bodies.
"It doesn't matter how much the world tries to put me down," Ducharme told NOW. "I will stand on those heels, naked, in front of anyone, holding a fan to cool myself off from all the struggles. Making myself beautiful. Standing tall."
It's not a fashion shoot. Instead, it's a shoot that takes the undercurrents of body judgment and pressure that fill traditional fashion shoots and literally lays them bare, all in the name of embracing — rather than fighting — your body.
h/t HuffPost U.K.