Who Is Jeanette Dousdebes Rubio? A Guide to Marco Rubio's Wife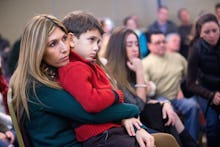 Andrew Harnik/AP
On the campaign trail, it's quite likely that a candidate's spouse will be at the forefront of several speeches and political events. That's not the case for Jeanette Dousdebes Rubio, wife of Florida Sen. and GOP presidential hopeful Marco Rubio. While her public appearances are sparse, it's not for a lack of support for her husband. Rather, Jeanette Rubio has embraced keeping the family — which includes four children — as close together as possible, even in the midst of the campaign chaos. 
Jeanette and Marco Rubio first met while Jeanette was still at South Miami Senior High School — the same high school Marco attended — though the two began dating when Marco Rubio entered college in 1990, as he was four years older than her, according to the Tampa Bay Times. However, the two broke up for a while in 1995 during which Marco Rubio embraced the single life in Miami, a decision that ultimately led him to question what was important in his life. One night, according to his memoir, An American Son, Rubio's own shoes that were covered in foam became a metaphor for the phoniness that encompassed the Miami nightlife. 
"I looked down at my shoes. They were perfectly white," Rubio wrote. "The foam had somehow bleached the color out of my cheap and obviously fake leather shoes. ... I left the club and found the nearest payphone." He called Jeanette that night, and the two eventually reconciled. Three years later, they were wed. 
Prior to their marriage, Jeanette Rubio spent one season as a Miami Dolphins cheerleader — a decision that did not fit her more introverted personality, according to the New York Times. Overall, she has "long bristled at the popular description of herself as a bubbly former cheerleader who married the star of her high school's football team," the Times wrote. 
Instead, she has placed an emphasis on family above career aspirations. She never received a bachelor's degree from International Fine Arts College (now Miami International University of Art & Design) after she became pregnant the year she and Marco wed, according to the Times. Of course, having a husband prominently in the national spotlight — and the constant travel that comes with the life of a politician — has been an ever-difficult transition. Regardless, she made it clear to him: Family must come first.
"When her husband ran for the United States Senate in 2010, Mrs. Rubio communicated a message to his staff: Whenever humanly possible, his travel schedule should bring him home at night for family time, aides recalled," the Times wrote. 
In fact, in a 2012 video interview with CBS News, Rubio compared her husband's constant travels to being a single mom during the week — taking the kids to activities and while assisting them with homework. "I'm used to it, but it's not easy," she said. 
While Jeanette Rubio has made very few public appearances on the campaign — save for important events such as when her husband initially declared his candidacy — she has drawn unwanted attention for her driving record. According to the New York Times, the Rubios have been cited for 17 traffic violations since 1997, with 13 of those coming from Jeanette Rubio. The Times added that the poor driving record included a required four-hour basic driver improvement course in 2000, though she failed to complete the class and paid another fee. 
"If Mr. Rubio is fortunate to make it as far as the White House, there will be many perks that come with the job," the Times wrote. "Chief among them, however, might be having a driver."
Poor driving aside, Jeanette Rubio has shown a soft-spoken support for Marco Rubio's ambition, so long as the family comes first. If not, she'll be sure to keep her husband in check, no matter the end result.