Caitlyn Jenner Will Release a Book on Gender Transformation in 2017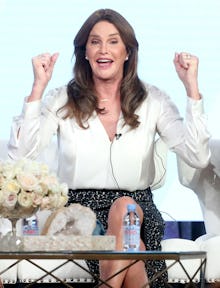 Frederick M. Brown/Getty Images
Caitlyn Jenner is working with the same Pulitzer-Prize winning journalist, who penned her introduction to the world as a transgender woman in Vanity Fair's cover story, on a new memoir due out in 2017, the New York Times reported Tuesday. Jenner and Buzz Bissinger, author of Friday Night Lights, will focus on the reality TV star's transition from being the father of America's most watched family to the trans-activist role she's since taken on, and everything that happened behind the scenes of her documentary series I Am Cait.
"I made it clear to her before I agreed that everything has to be on the table, nothing can be left out, and I'm going to be interviewing dozens of other people," Bissinger, a self-proclaimed "cross-dresser with a big-time fetish for women's leather," told the Times. "It's her book, but it's going to be reported out to keep her honest. She's been incredibly open, and I think it has the potential to be a really important book."
While I Am Cait took a look at Jenner's transition after receiving surgery, focusing on everything from her first interactions with family members to Kim Kardashian West's husband Kanye West making a rare appearance on the E! network to support the Olympic medalist, Bissinger said the book will go as far back as Jenner's childhood to explore her challenges and experiences from an early age.
As for the transgender reality star doubling up with Bissinger to produce the memoir, the two seem to share similarities, making for a good pairing. Besides her fondness for women's leather, "I've also been open about cross-dressing and certain aspects of gender fluidity, and that created a bond," Bissinger told the Times.
The news comes after the second season of I Am Cait was announced with a premiere date of March 6. "Things have been moving so quickly that it will be nice to slow things down a bit and take the proper time to reflect on this journey," Jenner said of the memoir in a statement to the Times released by Grand Central Publishing, the book's publisher.