'Kocktails With Khloé': Full Preview, Viewing Info and First Guest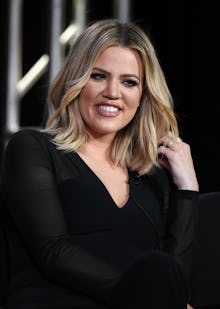 Richard Shotwell/AP
Khloé Kardashian is taking a break from Keeping Up With the Kardashians to invites audiences to "intimate" celeb- and booze-filled dinner parties with her own aptly alliterated talk show series Kocktails With Khloé. The eight-episode show will premiere at 10 p.m. on television and online on FYI on Wednesday. On Monday, Kardashian tweeted out that the taping for the first episode was complete, and will feature rapper Snoop Dogg.
Read more:
"I'm lucky that I've been able to invite fans into my life and home on a weekly basis and this show will give me an opportunity to continue to do that with new and exciting guests," Kardashian said in a press release in July. She is also an executive producer for the show.
The show is taped in a studio in Los Angeles, which mimics her house, she told E! It will feature a working kitchen (with a chef), dining section and living area, People reported. The show is filmed using 22 hidden cameras and no camera crew, which will hopefully "put everyone's guard down," Kardashian said. 
"Doing something I've never done before, of course, is like nerve-wracking, and the format of the show is very new and something that I don't really think has been done before," she said on E!, emphasizing how the dinner party format is unlike traditional talk shows. 
Kardashian and her guests will drink and play games like Never Have I Ever, which is known for getting players to reveal juicy secrets. "Alcohol never hurt anyone," she said. 
Each episode will be one hour. As expected, other Kardashians will occasionally appear on the show, but will avoid looking like another episode of Keeping Up With the Kardashians, she told E! She said Friday on Live With Kelly and Michael that Jennifer Lawrence is her dream guest.
Kocktails With Khloé was originally supposed to air on Dec. 9, but was postponed because of her former husband Lamar Odom's hospitalization in October, according to People.