This Is When SCOTUS' Decision on Obama's Immigration Policy Could Come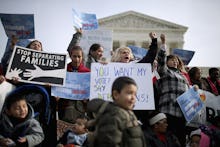 Chip Somodevilla/Getty Images
The Supreme Court announced Tuesday it would review the Obama administration's proposed immigration policy, which protects some of four million people from facing possible deportation. 
President Barack Obama's plan allows immigrants living in the United States to remain in the country if their children are legal residents. Similarly, the administration's proposal would extend the right to live within the U.S. to any immigrants who were brought to the country under 16 years of age, so long as they fulfill "educational or military service requirements," NBC News reported Tuesday.
The White House's proposals are not yet the law of the land, as 26 states have signed a lawsuit which temporarily blocks the provisions from going into effect. Those states, including Texas, argue immigrants being allowed to maintain residency in the U.S. will cost the nation's citizens. 
According to NBC News, the Supreme Court is set to review the case in April, and announce its decision by the end of June.
According to ThinkProgress, the administration's immigration policies were announced in 2014, but quickly came under fire by Republicans and several conservative judges who worked to bar the plans from going into action within the lower courts. Several of the conservative-leaning Republicans on the Supreme Court may favor relaxing restrictions on undocumented immigrants despite recent Republican ideology, the publication reported. 
Jan. 19, 2016, 12:03 p.m. Eastern: This story has been updated.