Here's Why Strapless Bras Are So Crappy — And What Could Make Them Better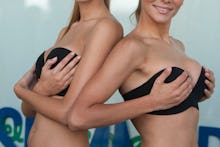 Recently, a strapless bra made headlines for doing the unthinkable: It worked.
"This strapless bra never falls down, and we're in awe," Hello Giggles reported. "The best strapless bra ever," Forbes wrote. The bra in question, the Kellie K strapless bra, was created by an actual robotics engineer and it seemed, miraculously, to actually do its job.
That's a rare thing. If shopping for bras is a unique kind of hell, many women would agree that shopping for strapless bras is the living, breathing, sweaty, tenth circle. The sagging. The drooping. The pinching. The chafing. The smooshing. The imperfections. The agony. 
Strapless bras have a simple function to serve — keep breasts aloft, sans straps — but perform famously poorly. They not only droop and sag, but can be super uncomfortable and come in very few options. We wanted to know why, for once and for all.
Why are strapless bras so uncomfortable or ineffective?
Unfortunately, bras are pretty complicated to build. Strapless bras tend to fit so poorly, in part, because all bras fit so poorly. Countless surveys and polls showcase the staggering number of women who wear the wrong bra size (one puts it at 80%, while another says 85%).
Think of bra construction like a building: the shape, the support, the fluidity of the design. It's about gravity and physics and skin elasticity and distribution of flesh — all things that are so super sexy to think about when it comes to your body. It doesn't help that women's boobs are all different; for some women, even the right is different than the left. 
Strapless bras are even tougher to get right. The band has to be tight enough to support both breasts, while the contoured cups have to accommodate breasts in their "resting" shape (aka when they're settled at the bottom of a bra rather than being hoisted from above by straps). 
There's also the smooshing problem.
"They must have a snug band and go to large-enough cup sizes without causing the breast tissue to go 'east [or] west' or flatten out the woman's silhouette," Marcia Shally, the sales director at size-inclusive lingerie brand Parfait, told Mic. "Ultimately, the breast tissue must go somewhere... either up [and] forward or to the side and under the arm." 
They also need to stay in place, something that's inherently hard to do sans straps.
"With any good bra, the main support comes from the band anyway — not the straps — but having straps there allows for it to stay in place much easier," Leanna Williams, the creative director at lingerie brand Harlow and Fox, told Mic. 
There are some bras that are doing that better than others, both through creative design and good technology. There are longline bras and corseted bras that rely on boning down to the waist for support. There are sticky bras, some of which just cover your front, that adhere to your body for support but still tend to only work for small busts. 
But remember, it took a robotics engineer to figure out the sticky Kellie K's bras. 
"I just think [companies] don't know how [to build a good one]," Stephanie Moreno — a customer service manager at Linda's, a retailer that specializes in bra fittings — told Mic. "Some of the construction that we've seen, it's still not 100% great. I think they're just figuring out the science behind the bras and the fabrics."
And to figure out the science, it takes money.
So why haven't strapless bras gotten better over the years?
It's all about the money, money, money. That's not so surprising, given how complicated engineering these garments can be. You would think manufacturers would still make the attempt; after all, the lingerie business is worth $110 billion globally and is expected to grow 18.2% by 2019, as reported by Business of Fashion. But strapless bras are just harder and therefore less efficient to bother with.
"Many companies don't have the resources to invest into strapless development," Hannah Isichei, a marketing manager at D+ lingerie brand Curvy Kate, told Mic. 
There's also the assumption, in part based on reality, that strapless bras are just less necessary.
"I think that strapless bras, in their mind, are more occasion wear," Moreno added. "They don't see that women are utilizing these sorts of bras in fashion. I just think [big manufacturers] are a little behind the times." 
But there is indeed a market for better strapless bras. According to Moreno, during the spring and summer months, about 35% of Linda's business comes from women searching for a strapless one. According to Parfait's Shally, 10% of all of its sales are from strapless bras, which become popular for them during the holidays and warmer months. 
Blogger Cora Harrington of the Lingerie Addict told Mic that many large lingerie companies aren't innovating nearly as quickly because there's so little serious competition. A reminder: Victoria's Secret's parent company reportedly controls over half the U.S. market all on its own. 
"If a brand can be confident you'll buy from them no matter what, where does the push to innovate come from?" Harrington told Mic. "It's also true that U.S. lingerie-buying habits tend to be more conservative compared to other markets (most boutiques report that their best-sellers are beige T-shirt bras), so retailers may also feel like the demand isn't there."
"Vocal complaints don't always result in increased sales, unfortunately," she added, "especially since bras are tricky garments anyway."
The lack of options — and innovation — is particularly true for women with bigger chests. As a reminder, the average woman in the United States is reportedly a size 12 dress and a size 34DD bra, up from a mere 34B 20 years ago. While not all women with large busts are plus size, that growth has gone hand-in-hand with the plus-size clothing market, which was worth $17.5 billion in April 2014 and growing, according to industry research firm NPD Group. 
And yet there is so little out there for fuller busts. "There is little choice in the industry across all sizes," Curvy Kate's Isichei said, "but especially in the fuller bust market, so women force themselves into something that isn't their size."
So is a better strapless bra even possible?
Sorta — if we adjust our expectations: An interesting note, as pointed out to Mic by experts, is that issues with strapless bras are, in part, situational. We're often slipping into them for weddings, proms, bridesmaid-ing, etc. These can be uncomfortable and stressful times, as well as moments when we demand a high level of functionality and attractiveness and care more than usual about the result. That's a lot for a bra to do, especially one that's already engineering-challenged.
"Lets face it, we're mostly wearing them with some kind of outfit that means a conventional bra is impossible," Harlow and Fox's Williams said, "and those types of outfits are most likely to be either a party or even wedding dress, meaning it's a special occasion, one where the last thing we want to be focusing on is our bra."
Moreno echoed that point, telling Mic, "Most of the women who shop [with us] for strapless bras are doing so for occasions like formal parties or formalwear or weddings, which can be incredibly stressful. This one particular bra [has] to fit properly and fit with the dress, so we're anxious about [it] as well. It creates this anxiety about even trying to shop for one." 
And there's just only so much a strapless bra, which is meant to literally fight gravity, can do. Think of the corset or the high heel — items that are limited (or even bad for us) by their very design. 
"Some women think that these bras can function like a bra with straps, and that's just not the case," Moreno said. "They're not perfect. Bras are a nightmare for everyone. The reality is that it's gravity, and when you're wearing a bra without straps, there's a lack there."
And yet things can get better with small, thoughtful tweaks. As lists of the "top-rated" strapless bras show, when it comes to strapless, function — rather than fun, sexy designs — is the priority. According to Moreno, a good silicon lining does wonders to prevent slipping, as can a wide band and a larger molded cup, since they provide more support. Another bra that's been outed as not-terrible is one from True & Co., which the internet has come to favor, and it also features a silicon grip and a molded cup.
Other needs? Well, women are ready to voice them, which is why some small startup companies have found success via crowdsourcing. Kellie K was launched into fame via Kickstarter, where lots of bra innovation now happens to take place, from "travel bras" to products that are basically eight-bras-in-one. Small companies also may focus on niche needs, like Curvy Kate, which currently has 60 sizes of strapless bras for sale.
Ultimately, the mere fact that we are so worried about drooping also says a lot about how we expect our bodies, especially our breasts, to look — not necessarily natural and in a state of constant perk. Sometimes we can accomplish that; other times, well, visible straps or a less-than-perky bust aren't the worst things in the world. At the very least, though, we'd like to be comfortable. If you're listening, manufacturers: Can we make that the goal?