Here's One Reason Why Some Americans Are Thinking of Voting for Hillary Clinton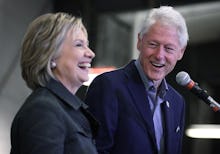 Alex Wong/Getty Images
Though recent presidential polls show former Secretary of State Hillary Clinton's numbers plummeting faster than they did when she ran in 2008, a new Reuters poll suggests her husband, former President Bill Clinton, could slightly influence voters in her favor. 
The poll, conducted from Jan. 7 through Jan. 13, prior to the most recent Democratic debate, shows 12% of American voters said they'd more likely vote for Hillary because she's married to Bill. Most Americans (73% of Democrats and 52% of Republicans), however, said Bill has no influence on whether they'll vote for Hillary. 
Additionally, fewer than half said Bill should be a more significant figure in Hillary's campaign and a similar amount said his involvement would boost her chances to win the nomination. 
A recent comparison of national political polls by RealClearPolitics showed Clinton's national lead dropping significantly faster than it did leading up to the Iowa caucus in 2008 when then-Sen. Barack Obama beat her for the nomination. 
In the most recent Democratic debate Sunday, Hillary said as president she'd ask for her husband's ideas, advice and "use him as a goodwill emissary to go around the country."
Bill has been on the campaign trail for his wife and said he "[does] not believe in my lifetime anybody has run for the job who is better qualified by experience, knowledge and temperament."