Will Chris Rock Host the Oscars? The Debate Gets Real in Wake of #OscarsSoWhite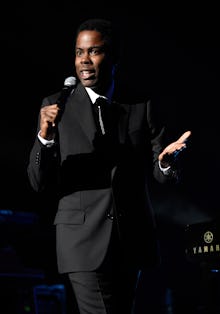 Kevin Mazur/Getty Images
With Jada Pinkett Smith and Spike Lee openly voicing their boycott of the 2016 Oscars, comedian Chris Rock has come under pressure to back out as host of the 88th annual Academy Awards. Due to the academy's failure to nominate even one black actor or actress for the second straight year, many are asking Rock to step down.
"Chris, I will not be at the Academy Awards, and I won't be watching, but I can't think of a better man to do the job at hand this year than you, my friend," Pinkett Smith, whose husband, Will Smith, was not nominated for Concussion, said in a Facebook video. "Good luck."
Read more:
According to the gossip site Naughty Gossip, sources have said Rock is facing extreme pressure behind the scenes to withdraw from the Oscars. "Many leaders in the black community think he would help progress be made if he quits his hosting job at the Oscars," sources told Naughty Gossip. "Chris is listening to what they have to say, but thinks he will have a bigger impact by doing the show. He thinks it is easier to make a difference from the inside."
Ricky Gervais, who hosted the Golden Globe Awards on Jan. 10, agrees with Rock's sources. "If I were Chris Rock, I wouldn't be considering boycotting the Oscars," he tweeted. "I'd be thinking, 'This shit is live. I can do some serious damage.'"
"I don't think Chris would bail — if anything, this gives him the world's biggest platform and an excellent area for jokes that only he can do," Dave Boone, best known for writing the 2015 Oscars telecast, told the New York Daily News.
Even rapper 50 Cent voiced his concerns Monday with Rock hosting the Oscars. "Chris please do not do the Oscar Awards. You mean a lot man, don't do it," he wrote on Instagram. "Please."
Rock has already started making jokes based around the controversy — most notably, calling the Oscars the "white BET Awards." 
Many have went to Twitter to voice their opinions on whether Rock should bow out.
Alongside the boycott, questions of whether black actors, musicians and directors should cease all participation in the mainstream market have risen. 
"We've never been short of talented filmmakers, thespians or musicians, so should we no longer look to spaces that have historically shunned us as great sources to validate our achievements?" Shahida Muhammad wrote in Blavity.  "Whether it's the Oscars, Grammys or any other mainstream award show, we've seen time and time again that our artwork is underrepresented and appreciated, and valuing our own platforms is crucial."
Rock is slated to host the Academy Awards at 7 p.m. Eastern Feb. 28 on ABC.