Is Donald Trump Barred From the UK? Here's Why Parliament Is Considering It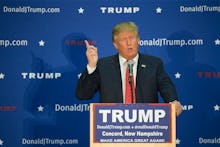 John Minchillo/AP
After an online petition gained a significant amount of steam, the United Kingdom's parliament formally considered Monday whether to ban Republican frontrunner Donald Trump from entering the country. The debate — which lasted around three hours — responded to a petition that far exceeded the 100,000 votes necessary for the government to respond to the claim, as it finished with more than 576,000 signatures.
The petition was the result of several offensive comments Trump has directed to a plethora of groups, which includes Mexicans, Muslims, women and people with disabilities.
"The U.K. has banned entry to many individuals for hate speech," the petition reads. "The same principles should apply to everyone who wishes to enter the U.K. If the United Kingdom is to continue applying the 'unacceptable behaviour' criteria to those who wish to enter its borders, it must be fairly applied to the rich as well as poor, and the weak as well as powerful."
Most notably, Trump's insistence on a temporary Muslim ban in the United States has irked the United Kingdom, which has a large Muslim population. According to demographic information of the U.K. provided by the Muslim Council of Britain on the 2011 U.K. census, about 4.8% of the population in England and Wales is Muslim, which would be around 2.7 million people. Additionally, among the "black and minority" ethnic group, Muslims comprise about one-third of the population. 
The debate, according to CNN, ended without going to a vote. However, there were members from both parties that expressed the merits of a ban on Trump, and conversely, the negative precedent that a ban would set. 
"I don't think Donald Trump should be allowed within 1,000 miles of our shores," Labor Party parliament member Jack Dromey said, according to BBC News. "Donald Trump is free to be a fool but he is not free to be a dangerous fool in Britain." 
"Like it or not, he is quite a contender to be the head of state of the most powerful country on the planet, a country which is a vital ally of ours," Conservative parliament member Sir Edward Leigh said, according to the BBC. "We have welcomed to the country Saudi and Chinese leaders, not to mention [Romanian communist Nicolae Ceau?escu], whose crimes are far worse than anything Mr. Trump can dream up." 
However, as CNN noted, the debate was never likely to take any formal action. Instead, it was an opportunity for members of parliament to vent their frustrations under the protection of parliamentary privilege, a legislation that "legally shields them from accusations of defamation or slander." 
While Trump is still performing well in national polls, it's evident that his stock overseas has continued to plummet. 
Watch the debate highlights below: