This Mom Got Super Real on Facebook About Grappling With Postpartum Depression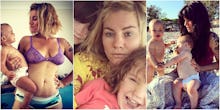 Breaking news: Life isn't always what it seems like on Instagram. Despite the proliferation of images of new moms with picture-perfect ombre braids and adorable gingham smocks with nary a mucus smear or spit-up stain in sight, being a new mom is, more often than not, incredibly stressful.
Constance Hall, 32, an Australian blogger with four kids, wants to shine a light on the less-than-picture-perfect aspects of motherhood. So she penned the following Facebook post addressed to harried new moms, or "the woman at the park, looking at her phone, ignoring her children": 
In the post, Hall salutes the imperfect mom: the woman who hasn't lost all of her baby weight, for instance, or the woman with "piles of dishes and washing who walks straight out the door for a coffee at her friends." She also gives a nod to moms who might be struggling with postpartum depression, a condition that affects approximately 10-15% of mothers: 
To the woman at the doctors surgery, waiting patiently to request some antidepressants, I salute you. 
In a previous Facebook post, Hall shared her thoughts about living up to the pressure of being the perfect wife and mother. "I love you, husband, but I just can't wifey today," she wrote, recounting the tedium of her day-to-day schedule.
Hall's brutally honest account of depression after pregnancy went crazy viral, with more than 260,000 likes as of this writing. The post seems to have struck a chord with young mothers, who are sharing their own experiences with postpartum depression in the comments.
"Today is one of those 'fuck this shit!,' kind of days," one mom said. "I'm mentally, emotionally and physically exhausted." Another chimed in, "As a mother of 8, I can't tell you how refreshing it is to read your words and think ... 'Hey, I'm not a failure.'"
If Hall's name sounds familiar, it's because this isn't her first time going viral: Earlier this month, she penned a Facebook post about her experience with "parent sex," a similarly visceral account of how parenthood has affected her sex life.
"You know what parent sex is: It's that 3.5 minutes you get in between changing nappies and making food, where you notice that all of your kids are pretty distracted, where you realize it's been almost a month since you banged and are starting to feel like flat mates," Hall wrote in the post. 
Since then, Hall (who has not yet responded to Mic's request for comment) has clearly taken up the mantle of #HonestMomGoals, dismantling the myths of perfect motherhood one Facebook post at a time. In a Facebook post from Monday night, she posted an image of her in a bra with her baby, encouraging moms to post similarly body-positive selfies with the hashtag #likeaqueen. 
"She's flawed, she swears, she eats the cake!!" Hall wrote. "She has a past and she owns that shit. She's skinny, curvy, flabby, muscly and she loves it. Because she's a fucking queen. Love yourself the way you want your daughters, nieces, friends kids to love themselves." 
Clearly, Hall's #brutallyhonest account on what it really means to be a mom in 2016 has resonated with women who are sick of sepia-filtered, perfectly manicured depictions of motherhood. Maybe now that moms are increasingly speaking openly about the rigors of motherhood, we can actually start thinking of real ways to improve moms' lives for the better — like, for instance, instituting mandatory paid parental leave. Just a thought. 
h/t the Independent 
Love yourself the way you want your daughters, nieces, friends kids to love themselves.