Bonnaroo 2016 Lineup Reportedly Leaked Online — Here Are the Artists to Expect at Festival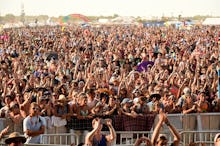 Jeff Kravitz/Getty Images
The lineup for Bonnaroo Music and Arts Festival will be officially revealed during Tuesday evening's episode of Conan, festival organizers announced. However, Tuesday's 11 p.m. Eastern episode of Conan may just confirm what many potential attendees already suspect, after a recent glitch in the festival's mobile app allegedly leaked the list of 2016's performers online, according to a thread on Reddit. The festival begins on June 9 and runs through June 12 in Manchester, Tennessee. Ticket sales will begin at noon on Friday, and pricing and purchase options can be found here. 
The rumored list of performers includes some big-time acts, among them Blood Orange, Anderson East, Beach Fossils, Chvrches, Death Cab for Cutie ,Ellie Goulding, Father John Misty, Haim, J. Cole, Kurt Vile and the Violators, Leon Bridges, Lolawolf, Lord Huron, M83, Purity Ring, Tame Impala, Third Eye Bling, Twin Door Cinema Club Tyler the Creator and Week, just to name a few. Via Reddit, here's a more comprehensive list of rumored Bonnaroo 2016 performers.  
Read more: 
According to Bonnaroo's 2016 explainer page, about 85,000 campers are expected to descend on the 700 acres that makeup the festival grounds. Visitors will see at least 150 performances across more than 10 stages, in addition to shows by comedians and a small-scale film festival. "We're very excited to invite you to celebrate 15 years of magic with us," festival organizers said in a statement. "The Bonnaroo magic is truly all about the people... see you on The Farm."
The fifteenth year of Bonnaroo brings with it good news for festival goers. 2016 will see the addition of a permanent water line, according to a news release, which will allow event organizers to give concert goers the gift of flushable toilets and showers.
The first wave of festival tickets will be sold in limited quantity at $324.50, before additional fees, and the second wave will go for $349.50, also before fees. To the price of each ticket sold, the event organizers will tack on an additional $34.90, which breaks down into $6 to pay for the facility, $3 which goes to Coffee County and $2 donated to Bonnoroo Works Fund and "other fees." 
Last year, an impressive lineup of artists performed at the annual festival, among them Mumford and Sons, Kendrick Lamar, Florence and The Machine, Alabama Shakes, Billy Joel, Childish Gambino, Flume, Hozier, Spoon, The War on Drugs, The Very Best, Moon Taxi, Caribou, Odesza, Shabazz Palaces, Houndmouth, Run The Jewels, Bahamas, Courtney Barnett, Royal Blood, Woods, Jamie Lee and Sylvan Esso. 
Yet despite an exhaustive list of big name acts at Bonnaroo 2015, some were quick to point out that the lineup was noticeably imbalanced between male and female musicians. 
Tune it to Conan Tuesday night to see if festival organizers heard that grievance and, if so, whether or not this year's lineup boasts a bill that's more stacked with female acts. In the meantime, Bonnaroo's staff members have curated a Spotify playlist for fans of the annual festival in commemoration of the event's 15-year-long stint.
And in anticipation of Tuesday's reveal, here's a roundup of photos captured at last year's festival: