'Southside With You': Here are the Actors Playing Barack and Michelle Obama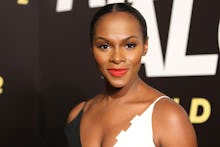 Omar Vega/AP
As the Sundance Film Festival draws closer, film buffs are buzzing about some of the festival's most hotly anticipated premieres, including Southside With You, a romantic film that tells the story of a young Barack Obama and his future wife, then Michelle Robinson, on their first date in Chicago in 1989.
The film will star Tika Sumpter as Michelle, who was, at the time in which the story is set, a lawyer in Chicago. Parker Sawyers will play a young Barack Obama. Southside With You follows the couple as they wander the city, go see Spike Lee's Do the Right Thing and share "their first kiss outside of an ice cream parlor," reports Variety.
Tika Sumpter has previously appeared in the comedy film Ride Along and the recently released sequel, Ride Along 2, as well as the 2014 James Brown biopic Get on Up. Sawyers is a relative newcomer as a leading man: He has appeared in several action movies in smaller roles, including Jack Ryan: Shadow Recruit and Zero Dark Thirty.
In an interview with his alma mater, Wabash College, Sawyers discussed playing the leader of the free world, saying, "It's a lot of studying because he's a real person who the whole world knows ... I just go on instincts and put it together like a fictional character. Since we don't have much on record of his private life, I'm guessing at how he probably would have been as a 28-year-old trying to woo a 25-year-old."
After filming in Chicago, Sawyers shared a photo on Instagram of himself in costume on set with Sumpter, saying, "Thanks to a startlingly impressive cast and crew, I think we made something truly special!"
Southside With You screenwriter Richard Tanne said in a promotional clip for Sundance that the story was inspired by "that look that Barack and Michelle give each other, just kind of feeling the authenticity in their love."
"When I read about their first date it had the makings of a movie, because Michelle was not interested in him at first," Tanne said, "but she gave him the chance to prove himself."
Back in April, Sumpter told Vulture that playing Obama's younger self makes her "nervous because she's Michelle Obama, who is everything every woman wants to be ... I'm just enveloping myself in everything I think she probably would have read."
Sumpter is also a producer for Southside With You, which debuts Jan. 24 at the Sundance Film Festival.
Correction: Jan. 19, 2016