Stephen Colbert Checked His Privilege in the Best Way While Discussing #BlackLivesMatter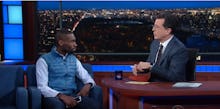 As a powerful, visible, white man, Stephen Colbert undeniably has a lot of privilege. The Late Show host proved this week that he's not only well aware of this fact, but also committed to addressing it. On Monday, the TV host did so in a simple yet symbolic way: Colbert switched seats with his guest, activist DeRay McKesson.
Salon reported Tuesday that McKesson joined Colbert to discuss Campaign Zero, a conference and platform to end police violence, and the conversation quickly centered on the persistent resistance McKesson and other racial justice activists still face. 
"People are uncomfortable talking about the racist history of this country and what we need to do to undo the impact of racism," McKesson said. "People just like to act like we don't have a legacy of racism here ... but we know we can't change it unless we address it."
Colbert then posed the notion that there is a "systemic history of violence against the African-American community." McKesson agreed, saying that current activist efforts are able to build on the civil rights movement's legacy of addressing this systemic violence in no small part because of technology — including the framework that facilitates Campaign Zero.
"Technology has allowed us to amplify these messages in ways we couldn't before and has accelerated the pace of organizing in ways that are really powerful," McKesson said.
Colbert then asked McKesson how he personally can identify white privilege in his own life. McKesson suggested that Colbert "dismantle" his privilege and use his "resources to create space for people." Colbert immediately attempted to do so, and switched seats with the activist.
With Colbert now in the hot seat, McKesson asked Colbert to discuss how the host can work to confront his white privilege and explore his discomfort with discussing race. 
It's not the first time Colbert has demonstrated his support for #BlackLivesMatter. The host notably wore a #BlackLivesMatter bracelet, although doing so incited a reaction similar to as if he had "slapped a baby," he told McKesson. But as Colbert continues to put his vocal support to action — through symbolic gestures like wearing bracelets and inviting powerful guests to speak on his show — it seems these actions will hardly be the last.
h/t Salon