There's One Big Difference in How Democrats and Republicans Are Talking About Flint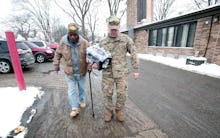 Democratic and Republican presidential candidates have sharply diverged in their responses to the water crisis convulsing Flint, Michigan, with Democrats demanding accountability and Republicans largely silent amid the ongoing crisis — suggesting that partisan polarization extends even to the issue of poisoned water.
The background: The water crisis dates to 2014, when Flint's emergency manager, a state appointee, flipped the city's water source from Detroit to the Flint River during construction of a pipeline to a new, cheaper water source, Lake Huron. Though the Flint River was laden with toxic chemicals, including lead, state and local officials insisted for months that water from the river was safe. By January 2015, however, testing revealed that chemical levels in the water violated the Safe Water Drinking Act.
The consequences may extend far beyond murky tap water and skin reactions: 10 people have died from Legionnaires' disease in cases that may be linked to the toxic water. President Barack Obama declared a state of emergency in Flint on Saturday, a step that allowed the Federal Emergency Management Agency to distribute relief funds, safe water and emergency kits.
The response: Democratic White House hopefuls Hillary Clinton, Bernie Sanders and Martin O'Malley have been forceful in their response to the crisis, calling Flint's poisoned water a national outrage.
On Saturday, Sanders called on Michigan Gov. Rick Snyder to resign, saying that the governor "did nothing" even after knowing for months that Flint's water supply was toxic.
"Because of the conduct by Gov. Snyder's administration and his refusal to take responsibility, families will suffer from lead poisoning for the rest of their lives," Sanders said in a statement. "Children in Flint will be plagued with brain damage and other health problems. The people of Flint deserve more than an apology."
In Sunday's Democratic debate, Clinton slammed Snyder's handling of the crisis, saying "every single American should be outraged" and suggesting that the poor, predominantly minority city had suffered a fate that would never have befallen a more affluent community.
"I'll tell you what: If the kids in a rich suburb of Detroit had been drinking contaminated water and being bathed in it, there would have been action," Clinton said.
Asked after the debate if he thought Snyder should resign, O'Malley responded, "It would appear that somebody sure as hell should."
"Lead poisoning is something that has plagued poor communities in cities and people of color," he said. "And the notion that our own government or that a local municipal government would be knowingly trying to cover something like this up is really appalling."
By contrast, the Republican response has been mostly muted.
Campaigning in Iowa on Monday, Sen. Marco Rubio of Florida declined to comment on the matter, saying he hadn't been paying close enough attention to formulate a position.
"That's not an issue that right now we've been focused on for me to give you a deeply detailed answer on what the right approach should be, other than to tell you that in general I believe the federal government's role in some of these things [is] largely limited unless it involves a federal jurisdictional issue," CNN quoted Rubio as saying.
"So I'd love to give you a better answer on it," the senator went on. "It's just not an issue we've been quite frankly fully briefed or apprised of in terms of the role the governor has played and the state has played in Michigan on these sorts of issues."
GOP frontrunner Donald Trump echoed Rubio's comments. While the water crisis is a "shame," Trump said in remarks quoted by NBC News, he doesn't plan on saying more.
"A thing like that shouldn't happen, but again, I don't want to comment on that," Trump said. "They've got a very difficult problem and I know the governor's got a very difficult time going. But you know, I shouldn't be commenting on Flint."
Representatives from other GOP presidential campaigns did not immediately respond to Mic's requests for comment.
Why it matters: Given the interplay of public health, race and economic inequality, the Flint crisis is ripe for political discussion. Flint is about more than municipal water practices: It raises important questions about social justice, the role of government and the marginalization of disadvantaged communities. Such concerns have long animated American progressivism, so the Democratic candidates' outspokenness hardly comes as a surprise. 
But the Republican Party has a vested interest in convincing the American electorate that it's not indifferent to racial injustice or the suffering of the poor, that the GOP's small-government ideology won't jeopardize public safety. Responding to Flint with crickets won't advance those objectives.
Correction: Jan. 19, 2016