Adele's "Hello" Breaks Yet Another Record, Is Fastest Video to Hit 1 Billion Vevo Views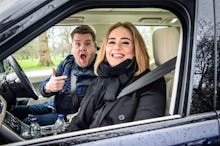 Its been nearly three months since Adele said "Hello" from the other side and broke just about every video record in the book. However, it seems that beautiful, sepia-tone opus is still not done making history. 
On Monday Adele's label XL Recordings shared news that the video had broken yet another record, becoming the fastest video to hit 1 billion views on Vevo. The most amazing part, though, is that she did it in about half the time it took the previous record-holder, South Korean pop-star Psy, to do it with his infamous novelty track "Gangnam Style." And Adele did it all with a flip phone.
It's far from the first record Adele has set. Back in October, the "Hello" video shattered the record for most views in 24 hours, garnering an epic 27.7 million views. It hit the 100 million mark four days later, falling one day short of the record Psy set with his "Gangnam Style" follow-up "Gentlemen." The simple, soulful aesthetic of "Hello" seems to enjoy a lot more staying power than Psy's visual blitzkriegs.
Surprisingly, one of the records the video helped Adele set on the day of its release has already been broken. On Jan. 11, the day David Bowie's death was announced, his Vevo channel broke Adele's record for most channel views in a single day, garnering 51 million views to dwarf Adele's own 36 million, the record she set back in October. Bowie also knocked Adele's 25 off the No. 1 perch on the Billboard charts, where it had sat for seven consecutive weeks. 
It's hard to believe any other mortal artist could have done the same. Revisit Adele's "Hello" below and check out how it sounds from the other side of a billion.