Winter Storm Snow Total Predictions Are Freaking Everyone Out and Ruining Plans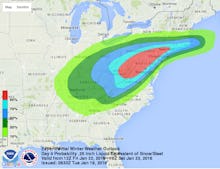 National Weather Service
Weather forecasts have strongly suggested the East Coast will experience a major snowstorm this weekend that some reports say "could make life miserable for some 50 million people in the Northeast," CNN reported. People are already up in arms on Twitter about their weekend plans, but forecasts predict some major cities along the coast will get hit with roughly six inches of snow at most while other cities should prepare for several feet.
Though specific snowfall predictions have yet to be released as meteorologists wait to become more confident in the storm's path, reports suggest an idea of how much snow different regions along the East Coast can expect. 
New York City: WNBC's storm team predicts New York City, New Jersey, Long Island and the Hudson Valley will get hit with roughly six inches of snow if the storm fulfills its maximum potential, while CNN reported that New Yorkers could wake up to a foot of snow Saturday. Most computer models agree that the storm should last from Friday night through the day Saturday. 
Boston: CNN reported that Boston could see a foot of snowfall by Saturday morning as well, but Boston's local WCVB storm team predicted that while there's a high chance of the area experiencing heavy snowfall over the weekend, if the storm moves further east as it heads north over the next few days, Boston would be the last and likely least-affected area on the East Coast. 
Washington, D.C.: All major computer models unanimously agree the area. will experience at least double-digit inches of snowfall between Friday and Saturday, the Washington Post reported. the National Weather Service issued a warning about life-threatening conditions and significant travel delays over the weekend. There's currently a 50% chance of at least 12 inches of snow, according to the Post.
The winter storm threat looks strongest for the nation's capital. Washington, D.C., and Baltimore's National Weather Service reported "with high confidence that a high impact winter storm will affect most, if not all of the area Friday through Saturday."
Meanwhile, Twitter users are warning the winter storm to "relax," complaining they'll be "livid" if the storm ruins their weekend plans — some involving birthdays.